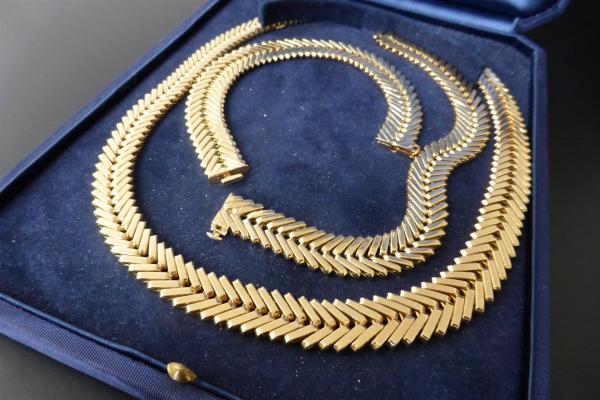 Philocale auctioneer in collaboration with our experts specialized in free valuation and free appraisal will auction an important Van Cleef and Arpels set in gold including a necklace and two bracelets, Saturday 28th April at the chateau de La Fontaine in Olivet.
VAN CLEEF & ARPELS.
Parure en or jaune 750 millièmes, les maillons à décor de chevrons, comprenant :
- un collier articulé, les maillons en chute
- deux bracelets articulés.
Signé et numéroté sur chaque élément : bracelets n° 76167 et 70726 et collier n° 95029.
Longueur du collier : 45 cm.
Poids du collier : 121,5 g.
Longueur des bracelets : 18 et 19 cm.
Poids des bracelets : 51,9 et 56,1 g.
On y joint des maillons supplémentaires.
Poids : 22,3 g.
Dans un écrin de la Maison VAN CLEEF & ARPELS.
Estimate: 6,000/8,000 euros

Send this article to a friend