About us
First European group of expertise in art
Authenticité is the first European group of fine art experts specialized in antique furniture, art, sculptures, paintings and drawings and jewelry, antiques, modern and contemporary objects. Our teams in London and Paris are available to appraise, value, carry out inventories (insurance, estate, inheritance) and sell your valuables.
More than twenty experts
Our experts are independent, ie not dealers, and will provide objective advice.
Their areas of expertise are diverse and complementary antiquities, archeology, Asian art, art from Africa and Oceania, contemporary art, art deco, impressionist and modern art, Islamic art, pre-Columbian art, jewellery and watches, gold and silverware, design, prints and illustrated books, furniture and art, fashion and vintage, photography, sculpture, 'Old Masters' paintings and drawings (English, French, Flemish, Dutch, Italian), rare wines and spirits objects.
A network of fifteen auctioneers
Authenticité collaborates with a network of reputable auctioneers worldwide in auction houses in London, Brussels, Geneva, Monaco , the U.S. (New York, Chicago, Miami) and of course France (Paris, Neuilly sur Seine, Saint Cloud, Lyon, Marseille, Bordeaux, Lille, Orleans, Aix en Provence),
Authenticité London
Cedric Henon
Tel: + 44 796 722 3146
cedric.henon@authenticite.fr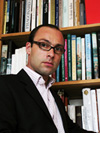 A graduate of the IESA (Institute for Arts, Paris)

Specialist in antique furniture, chairs, objects of art and European paintings from the fifteenth to the eighteenth century

Recognised expert at auctions