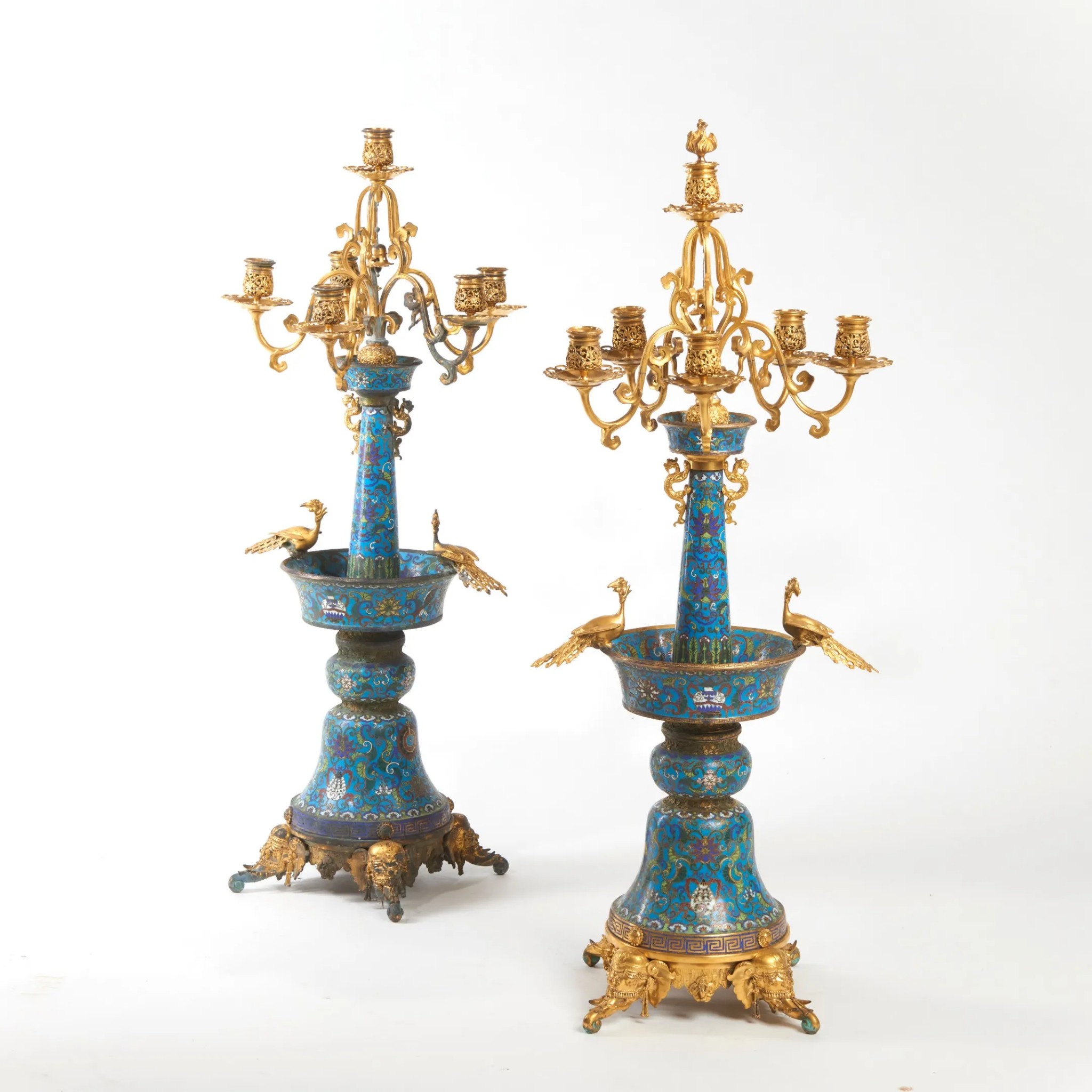 Le Floc'h auction house, in Saint-Cloud, in collaboration with our experts specialized in free valuation and free appraisal sold at auction a pair of chinese enamel and French ormolu signed Ferdinand Barbedienne candelabra, Thursday 26th October in Saint-Cloud.
Ferdinand BARBEDIENNE (1810-1892), dans le goût de la CHINE.
Paire de candélabres formés de pique-cierges en cuivre à décor d'émaux cloisonnés polychromes à fond bleu (accidents et usures) à montures en bronze ciselé et doré d'un bouquet de cinq bras de lumières à six feux (manque un toupet), le fût orné de dragons et paons (un à refixer), la base formée de quatre têtes d'éléphants (accidents et usures à l'un) richement parées.
Signés F Barbedienne.
Chine, époque Qing pour les pique-cierges.
Paris, vers 1865 pour les montures.
Haut. : 92 cm - Larg. : 37 cm
Note :
L'Exposition Universelle de Paris de 1867 avec son pavillon japonais remet au goût du jour les chinoiseries et plus particulièrement le japonisme auprès de la clientèle française et internationale. Apparu dès le XVIIIe siècle, le réemploi et le montage d'objets orientaux par des artistes français atteint alors son apogée en particulier avec les créations d'Edouard Lièvre. Ferdinand Barbedienne (1810-1892), fondeur à partir de 1838, connaît rapidement le succès en proposant des copies réduites de sculptures conservées dans des collections publiques. A partir de 1855, associé à Louis-Constant Sévin, il se lance également dans la création, en particulier de pièces en émaux cloisonnés dans le style de la Chine. Suite à la mise à sac du Palais d'Eté en 1860, le couvercle d'un grand encensoir en émail cloisonné est offert à Napoléon III. En 1863, Ferdinand Barbedienne est chargé de le transformer en un lustre élaboré. Ce lustre constitue désormais la pièce maîtresse du Musée Chinois du Château de Fontainebleau, ouvert en juin 1863. Le musée présente également une grande garniture de temple impérial de la période Qianlong, également acquise par les forces alliées en 1860, dans laquelle les chandeliers et les vases Gu ont été transformés en candélabres, vraisemblablement par Barbedienne.
Une paire de candélabres comparable à base à quatre têtes d'éléphants, signée Barbedienne fut vendue par Bonhams Londres, le 12 mai 2011, lot 436.
Estimate: 10,000/15,000 euros
Sold for 40,000 euros, hammer price

Send this article to a friend