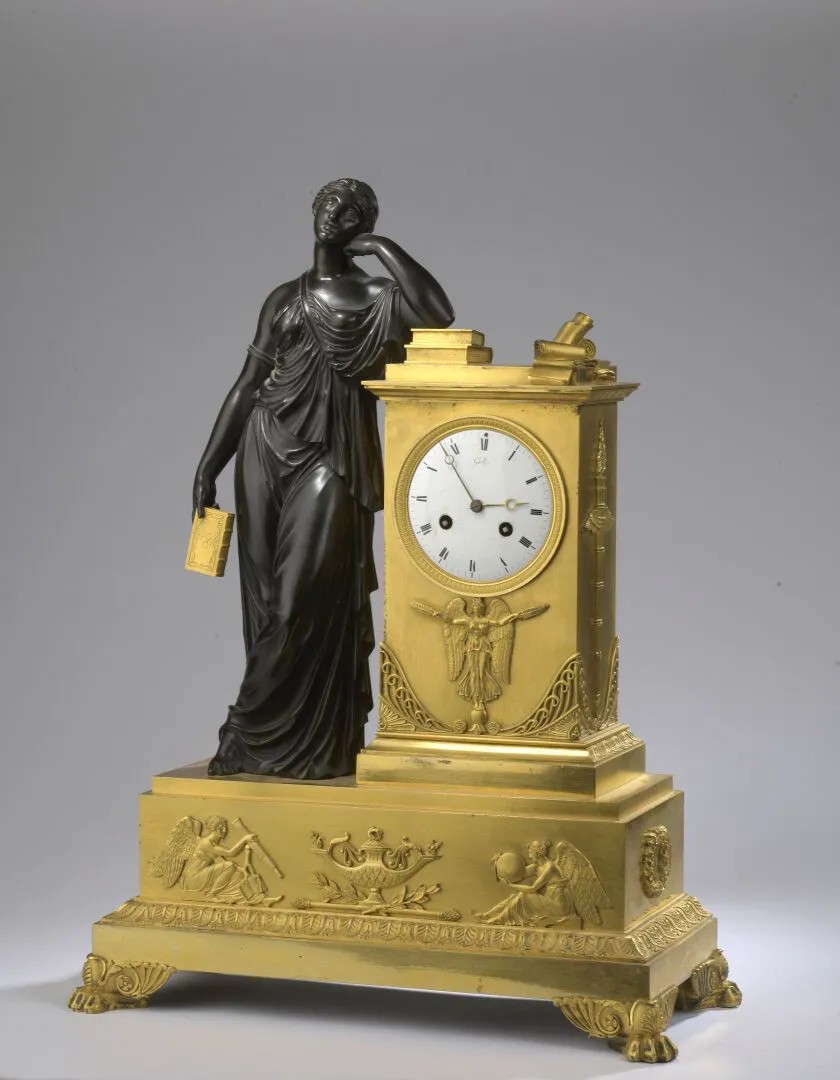 Philocale auction house, in Orleans, in collaboration with our experts specialized in free valuation and free appraisal will auction a Restauration ormolu and patinated bronze clock, Thursday 30th June in Orleans.
Pendule à figure dite au génie de la Géométrie et de l'Astronomie en bronze ciselé, doré et patiné.
La borne contenant le cadran circulaire en émail blanc à chiffres romains en noir signé GALLE supporté par une renommée en bas-relief est coiffée de livres et rouleaux de parchemin. Base quadrangulaire à l'allégorie de la Géométrie et de l'Astronomie en bas-relief encadrant une lampe antique à thyrses et branches de laurier, contre-socle à frise de palmettes et pieds en griffes de lion.
Époque Restauration
H. 58 L. 44 P. 21 cm
Usures, cheveux à l'émail, léger manque au compas, échappement modifié
Gérard Jean Galle (1788-1846) : fils de Claude Galle, il succède à son père en 1812.

Note :
Notre pendule présente de grandes similitudes avec une pendule au génie de la Géométrie et de l'Astronomie livrée par Lepaute Fils le 10 août 1819 au Garde-Meuble royal (GMI. 4807).
La figure féminine peut être rapprochée d'une figure présente sur une pendule livrée en 1810 par Lepaute au palais de Fontainebleau.

Bibliographie :
Dupuy-Baylet, De bronze et de cristal, 2020, p. 70-71.
Samoyault, Pendules et bronzes d'ameublement entrés sous le Premier Empire, 1989, p. 61, No. 20.
Estimate: 2,000/3,000 euros

Send this article to a friend