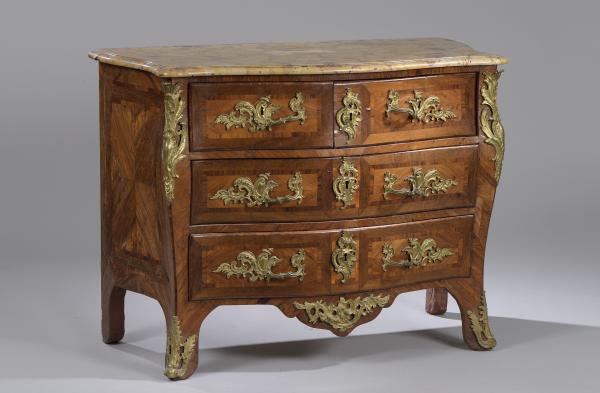 Guillaume Le Floc'h auctioneer in collaboration with our experts specialized in free valuation and free appraisal sold a French antique Louis XV period parquetry commode stamped Jean-Pierre Latz, on Sunday 8th October in Saint-Cloud.
Commode galbée à façade cintrée en placage de bois de rose, amarante et palissandre (accidents, restaurations et soulèvements), ouvrant par quatre tiroirs sur trois rangs. Riche garniture de bronze ciselé et doré rocaille (rapportés) tel que chutes, poignées de tirage, entrées de serrure, tablier et sabots.
Plateau de marbre brèche d'Alep (restauré).
Estampillé de Jean-Pierre LATZ deux fois.
Epoque Louis XV.
Haut. : 86 cm – Larg. : 114 cm – Prof. : 57,5 cm

Ebéniste Privilégié du Roi avant 1741, il livra des meubles pour l'Electeur de Saxe, ainsi qu'à la duchesse de Parme, fille de Louis XV.
Estimate: 2,500/3,500 euros
Sold for 5,300 euros

Send this article to a friend