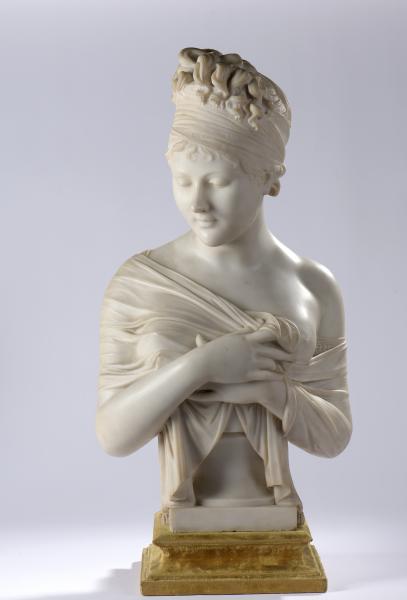 Philocale auction house, in Orleans, in collaboration with our experts specialized in free valuation and free appraisal will auction a Juliete Recamier marble bust after Joseph Chinard, Sunday 26th September in Orleans.
École française de la fin du XIXe siècle,
d'après Joseph CHINARD.
Buste de Juliette Récamier (1777-1849)
Marbre blanc sculpté
H. 64 L. 36 P. 25 cm
Égrenures

Note :
Notre buste est une reprise de celui de Madame Récamier réalisé par Joseph Chinard (1756-1813) entre 1804 et 1808 et aujourd'hui conservé au musée des Beaux-Arts de Lyon Inv B 871.
Le J. Paul Getty Museum de Los Angeles conserve, pour sa part, un exemplaire en terre cuite de mêmes dimensions que le notre et daté vers 1801-1802, 88.SC.42.
Ce buste connut un immense succès. Madame Récamier, elle-même, en diffusa des copies et des moulages.
Édouard Herriot, membre de l'Académie française, envouté par la beauté de ce buste, en décrivit même le charme réel et ambiguë qui s'en échappe.
Estimate: 800/1,200 euros

Send this article to a friend