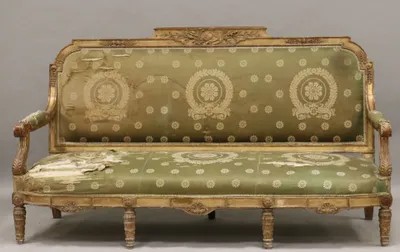 Alpes Encheres auction house, in Chambery, in collaboration with our experts specialized in free valuation and free appraisal sold at auction a French Louis XVI style carved and giltwood sofa, Thursday 2nd December in Chambery.
Canapé à dossier plat en bois mouluré, sculpté et doré, à décor de palmettes, fleurons, et allégorie militaire au casque, bouclier, hache et flèche dans un encadrement de branchages feuillagés, reposant sur quatre pieds antérieurs en faisceaux de licteur et trois pieds postérieurs en sabre.
Style Louis XVI.
Attribué à la maison Grohé.
(Accidents et usures).
Haut. : 112 cm, larg. : 200 cm, prof. : 69 cm.
Estimate: 800/1,200 euros
Sold for 1,150 euros

Send this article to a friend