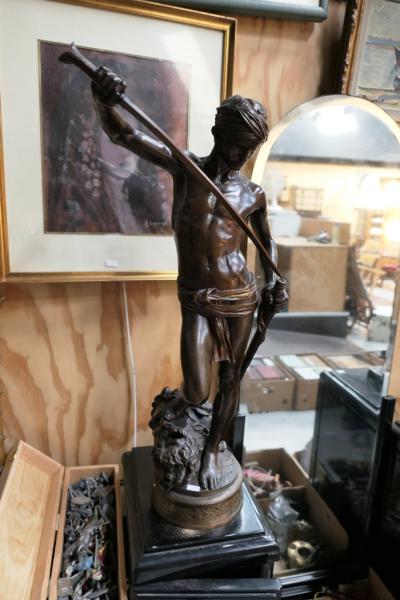 Sophie Himbaut auction house, in Aix-en-Provence, in collaboration with our experts specialized in free valuation and free appraisal will auction a patinated bronze after Antonin Mercie, on Tuesday 8th November in Aix en Provence.
Antonin MERCIÉ (1845-1916) (d'après)
"David vainqueur de Goliath".
Epreuve en bronze à patine brune et mordorée, signé en creux sur la terrasse.
H. : 73 cm.

Note :
Antonin Mercié fut récompensé d'une médaille de première classe au Salon de 1872 pour cette œuvre, inspirée du David de Donatello et du Persée à la tête de Méduse de Cellini.
Elle fut éditée par la maison Barbedienne.
Bibliographie :
P. Kjellberg, Les bronzes du XIXe siècle, Les Editions de l'Amateur, Paris, 1989, p. 240
Estimate: 800/1,200 euros

Send this article to a friend