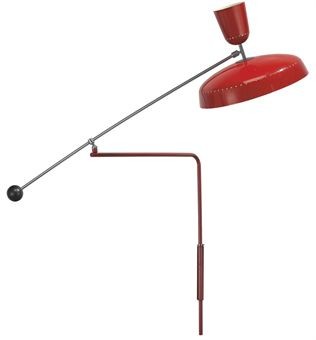 Pierre Guariche is a French designer of the 50s, from the "younger generation" emerging after the Second World War. First designer and integrator, it will be one of the founders of the ARP, then after artistic director of the Belgian firm Meurop, he turned to his dream: the interior design.
After his graduation at the Ecole Nationale Supérieure des Arts Décoratifs in 1949, he entered the studio of Marcel Gascoin where he developed a taste for the creation of functional furniture and daily use as well as industrial materials. After exhibiting at Salon des Arts Ménagers in 1951 he began his first collaborations with emerging new publishers. First with the gallery Mai and with young publishers Hugues Steiner, Charles and Minvielle Disderot, for them he developed a wide range of chairs, storage furniture and fixtures.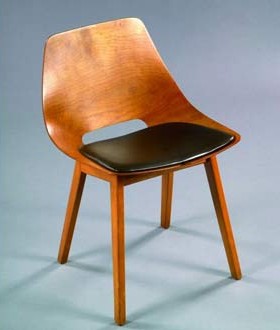 He is the first French to use the technology of the base shell. This technology was developed in the United States by designers Charles Eames and Arne Jacobsen from the 40s. The use of moulded plywood allows manufacturing a seat integrally. La chaise Papyrus (1950) and chaise Tonneau (1951) Pierre Guariche will be the first models sold in France. Subsequently, he developed a wide range of seats and chairs in wood and metal as well as many alternatives to the chaise Tonneau.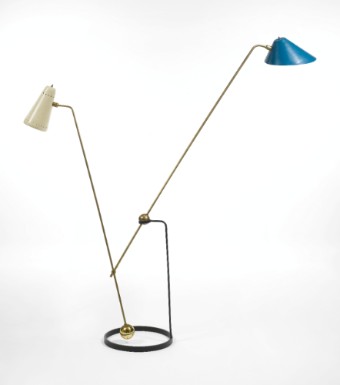 During his career, Pierre Guariche produced a considerable number of lights: it is estimated that between 30 and 40 designs all different. The majority of them were created between 1950 and 1959 for the Editor and friend Pierre Disderot. Pierre Guariche develops its fixtures Danish system operator and Rotaflex Disderot greatly helps to develop new uses techniques of metal. Indeed, Pierre Guariche grew up in a family of goldsmiths and supported his knowledge Breguet High School. His first models are applied to simple pendulum (1951) and the double pendulum lamp Equilibrium (1952), already demonstrated great technical dexterity. Indeed, as a main concern Pierre Guariche conceal the light source (bulb) to create indirect lighting, comfortable and aesthetic. The culmination of his research is undoubtedly expressed through the range Cerf-volant (1952), real light sculptures.
The whole career is punctuated Pierre Guariche large collaborations, marked by the desire to create more functional furniture always, innovative, comfortable and aesthetic.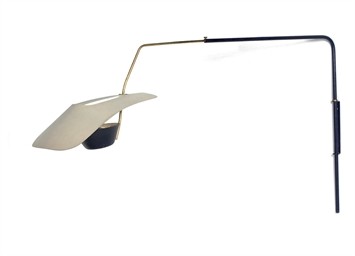 Since the 2000s, the multiplication of exhibitions around the 50s as "Mobi Boom" allows you to know the too often forgotten the "younger generation". While viewers certainly know Charlotte Perriand, Jean Prouvé and Le Corbusier, the focus is on young designers' reconstruction: Pierre Paulin, Michel Mortier, Joseph Andre Motte, Antoine Philippon and Lecoq Jeannine, Alain Richard, Jean René Caillette...... Guariche was never forgotten of gallery owners and collectors, but these rediscoveries allow a wider diffusion of its production.
Its prices on the art market are changing slowly approaching the price of the biggest names in design. Since 2004-2005, auctions around Guariche are growing and increasing prices.
Chaise Tonneau , tulip or Vampire are worth between 300 and 500 €, approaching the price of the standard CM131 of Pierre Paulin or chaise Tulipe by Eero Saarinen.
Lots fetches the highest prices, because they have never ceased to interest major retailers are of high quality fixtures. We note that the floor lamps Cerf-volant and Equilibium now reaching € 15,000.
This craze around the production from Guariche especially around its lighting is enhanced by exposure of the Galerie Pascal Cook: « Pierre Guariche, créateur de lumière 1950-1959 » until 27 October 2012.

Illustrations et crédits photographiques :
1/ principale : lampadaire balancier guariche.
2/ chaise Tonneau, courtesy of Tajan.
3/ lampadaire équilibrium.
4/ applique Cerf volant
Feel free to contact our fine art specialists if you want to
appraise
your works of art. We also assist you in the selling of your works of art :
consultancy.

Send this article to a friend