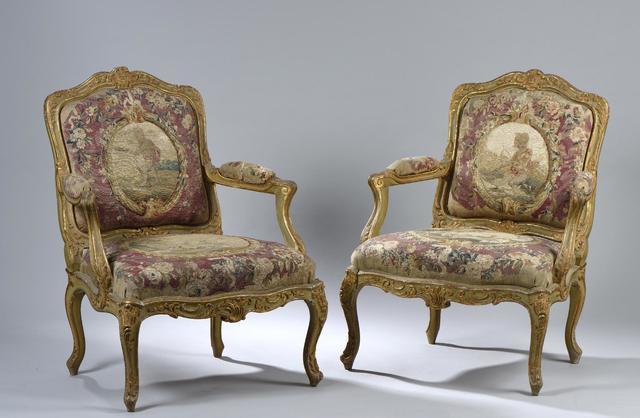 On the 19th June, Sequana auctioneer in collaboration with our company specialized in free valuation and free appraisal Authenticite will auction in Rouen a pair of Louis XV style green an giltwood fauteuils a dos plat a chassis covered in Louis XV period Beauvais tapestries.
Exceptionnelle paire de fauteuils à dossier plat à garniture à châssis en bois mouluré, sculpté, laqué crème et rechampi vert, à décor de coquilles, concrétions marines, feuilles d'acanthe, fleurs et branchages feuillagés, reposant sur des pieds cambrés.
Style Louis XV
Légers accidents
99 x 78 x 56 cm
Elle présente une riche garniture de tapisserie de laine et soie à fond rose et crème à décor de putto portant un arc pour le dossier et de bestiaire inspiré des fables de La Fontaine pour l'assise s'inscrivant dans des médaillons.
Beauvais, seconde moitié du XVIIIe siècle.
Accidents et usures principalement des manchettes
Estimate: 1500/2000 euros
Note :
Les bois de nos sièges sont très caractéristiques de la manière de Louis et de Michel Cresson, tant dans leurs gabarits que dans le traitement de la sculpture et peuvent être rapprochés d'un fauteuil reproduit dans l'ouvrage de Bill G.B. Pallot, L'Art du Siège au XVIIIème siècle en France, p. 151.
Créée en 1664 par Colbert, la manufacture de Beauvais équivalait en qualité aux productions de la manufacture des Gobelins dont la production était réservée au Roi. Beauvais se spécialisa également dans la production de garniture de sièges, ce dont nous avons un parfait exemple avec notre paire de fauteuils.

Send this article to a friend