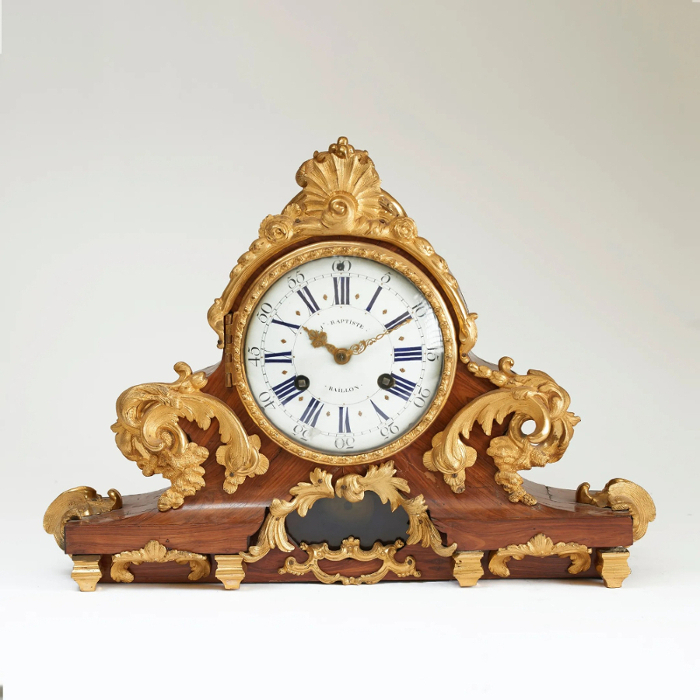 Le Floc'h auction house, in Saint-Cloud, in collaboration with our experts specialized in free valuation and free appraisal will auction a French Louis XV Charles Cressent kingwood parquetry clock the dial signed Baillon, Sunday 8th October in Saint-Cloud.
Pendule de cartonnier en placage de bois de violette. Importante ornementation en bronze ciselé doré en partie poinçonné au C couronné. Cadran émaillé blanc à chiffres romains en bleu pour les heures et arabes en noir pour les minutes et fleurs de lys dorées.
Le cadran et le mouvement, numéroté 2864, sont signés Jean-Baptiste BAILLON A Paris.
attribuée à Charles Cressent.
Epoque Louis XV.
Haut. : 39 cm - Larg. : 56 cm - Prof. : 13,5 cm
Provenance :
-Ancienne collection Bernard Dillée puis par descendance.
-Vente Maître Ader, Palais Galliera, 23 novembre 1965, lot 69, reproduit.
Bibliographie :
-Pierre Kjellberg, Le goût d'un expert, Connaissance des Arts, mai 1969, n°207, reproduit p. 75.
-Alexandre Pradère, Charles Cressent, sculpteur, ébéniste du Régent, Dijon, 2003, reproduit p. 301, fig. 244.
-Alvar Gonzalez-Palacios, Gli Arredi Francesi, Il Patrimonio del Quirinale, Milan, 1995, p. 296, fig. 79.
Rapport de condition :
Le placage du dos de notre pendule est rapporté, vraisemblablement pour en faire une pendule de milieu et la porte donnant accès au mouvement est fracturée en deux.
Le placage de la façade et des côtés présente des fentes, des accidents, des soulèvements et quelques restaurations.
Le cadran présente des égrenures au niveau des remontoirs et une restauration.
L'échappement a été modifié.
Note :
Bénéficiant d'une grande notoriété de son vivant, Charles Cressent (1685-1768) fut un des rares ébénistes à voir son nom mentionné dans les catalogues de vente de son époque.
Seuls deux autres exemplaires comparables à notre pendule sont connus, tous deux en placage de bois de violette :
-un exemplaire actuellement conservé au palais du Quirinal à Rome, provenant du palais royal de Gênes au cadran signé Jean-Baptiste Baillon et aux bronzes poinçonnés au C couronné (A. Gonzalez-Palacios, op. cit., p. 296, n°79 et A. Pradère, op. cit., p.301, fig. 243).
-le second, vente Sotheby's Paris le 7 novembre 2013, lot 171, avec un cadran et un mouvement signés Julien Le Roy de La Société des Arts.
La formation initiale de sculpteur de Charles Cressent lui permit d'élaborer des bronzes dorés d'une grande originalité et dès 1723 il prend le titre d'ébéniste du Régent.
La présence du C couronné nous permet de dater l'exécution de notre pendule entre 1745 et 1749 , période durant laquelle cette taxe fut mise en place. La qualité de la fonte et de la ciselure témoigne de la maîtrise de Charles Cressent dans cet art, ce qui lui valut plusieurs procès avec la corporation des fondeurs et doreurs à l'époque.

Jean-Baptiste III Baillon : reçu maître le 14 février 1727, il obtient par survivance la charge de valet de chambre-horloger ordinaire de la reine dès 1738.
Estimate: 20,000/30,000 euros

Send this article to a friend