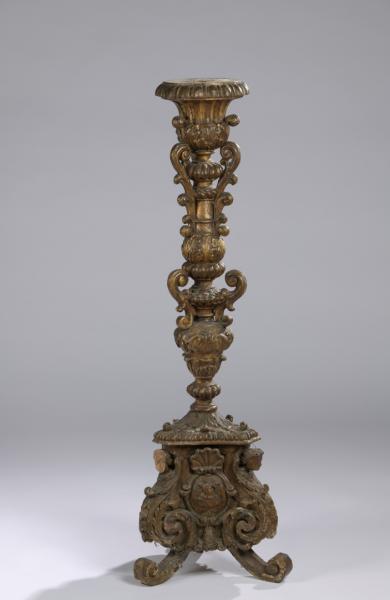 Philocale auction house, in Orleans, in collaboration with our experts specialized in free valuation and free appraisal will sell at auction an Italian late 17th early 18th century carved giltwood lights stand. Sunday 14th February in Orleans.
Sellette porte-torchère en bois mouluré, sculpté et doré, à fût de forme balustre à décor de godrons, volutes, appliques feuillagées et acanthe. Base tripode coiffée de têtes de chérubins à cartouches sculptés et tétragramme.
Italie, fin XVIIe-début XVIIIe siècle
H. : 113 cm
Accidents, usures, fentes et manques, le plateau repercé.
Estimate: 400/600 euros

Send this article to a friend