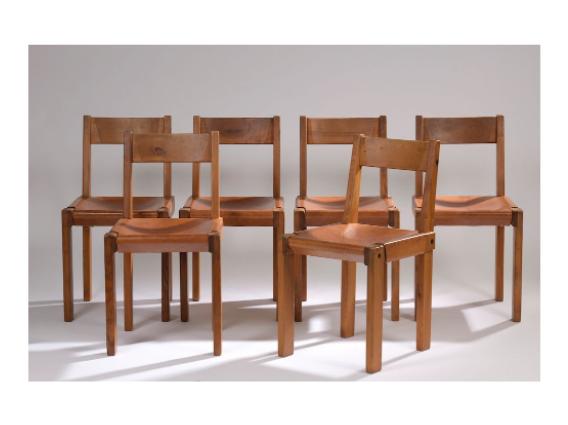 Guillaume Le Floc'h auction house, in Paris and Saint-Cloud, in collaboration with our experts specialized in free valuation and free appraisal will auction a set of six leather chairs S24 by Pierre Chapo, Sunday 28th November in Saint-Cloud.
Pierre CHAPO (1927-1987), éditions SELTZ.
Suite de six chaises modèle "S24"en orme massif huilé à dossier bandeau, l'assise en cuir naturel reposant sur quatre pieds droits.
Modèle créé en 1967.
Haut. : 75,5 cm - Larg. : 41 cm - Prof. : 42,5 cm
À la fin des années 1940, Pierre Chapo rencontre un menuisier de marine et tombe amoureux du travail du bois. Il décide alors d'intégrer l'atelier d'architecture de l'école des Beaux-Arts de Paris. Après ses études, Chapo parcourt les pays scandinaves et les Etats-Unis. En Arizona, il est frappé par les créations de Frank Lloyd Wright.
À son retour, il créé son studio à Clamart et la Galerie Chapo à Paris, où son mobilier de bois moderniste côtoie d'autres designers comme Isamu Noguchi. En 1960, il participe à l'exposition Arts et technique de l'artisanat, il y est récompensé d'une médaille d'or.
C'est pour son ami le docteur Hiroshi Nakajima que Pierre Chapo conçoit en 1967 la chaise « S24 » en bois massif huilé et cuir tendu de tressage de corde, alliant ainsi minimalisme, tradition et chaleur réconfortante.
Estimate: 4,000/6,000 euros

Send this article to a friend