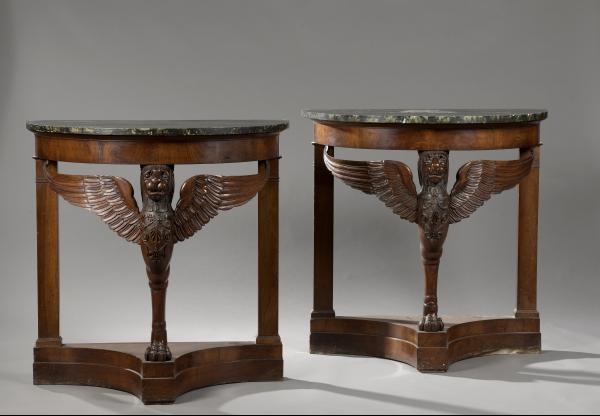 Guillaume Le Floc'h auction house, in Paris and Saint-Cloud, in collaboration with our experts specialized in free valuation and free appraisal will auction a pair of neoclassical mahogany table with a marble top, from he Verteuil castle property of the La Rochefoucault family, Sunday 17th October in Saint-Cloud.
Paire de consoles demi-lune en placage d'acajou et bois teinté, reposant sur un pied médian en griffon ailé, les montants antérieurs en pilastre, réunis par une tablette d'entrejambe concave formant plinthe (accidents et manques, trous de xylophages).

Travail néoclassique du XIXe siècle.

Plateau de marbre teinté noir (égrenures).

Haut. : 96 cm - Larg. : 94 cm - Prof. : 52,5 cm.



Provenance :

- Probablement Armand-Emmanuel du Plessis, duc de Richelieu (1766-1822), président du Conseil et Ministre des Affaires étrangères lors de la Seconde Restauration.
Estimate: 2,500/3,500 euros

Send this article to a friend