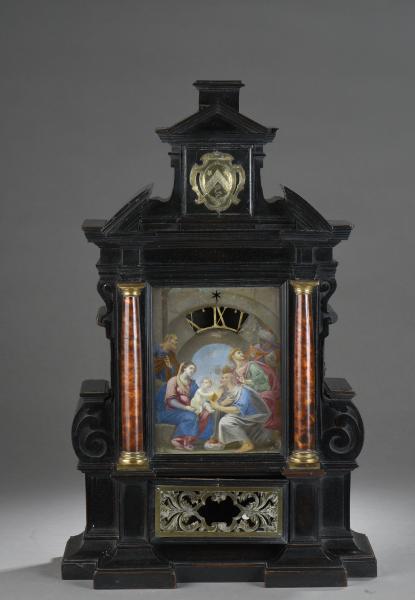 Philocale auctioneer in collaboration with our experts specialized in free valuation and free appraisal Authenticite auctioned an amazing Italian night clock.
Pendule nocturne dite pendule Campani
en bois noirci et placage d'ébène mouluré, de forme architecturée à trois registres. La base rectangulaire s'ouvre par un tiroir à façade en cuivre finement repercé. Le cadran rectangulaire à chiffres romains tournant à jour figure l'Adoration des Mages, une huile sur cuivre dans le style de Carlo Maratta, flanqué de colonnes plaquées d'écaille brune. Surmonté d'un fronton brisé de forme triangulaire présentant en son centre une plaque en laiton armoriée.
Italie, fin du XVIIe siècle.
Manque la lampe à huile, manques, légers accidents, mouvement transformé.
H. 56, L. 35, P. 14 cm.

A late 17th century ebony and ebonised night clock.

Note :
en 1665, le Pape Alexandre VIII (1657-1679), victime d'insomnies chroniques, commanda aux frères Campani une pendule qui lui permette de lire l'heure la nuit et silencieuse. Une lampe à huile placée à l'intérieur de la pendule, illuminait le cadran et permettait de lire l'heure à travers les chiffres ajourés.
Une pendule nocturne signée P. T. Campani (Pietro Tommaso Campani) et datée 1683 est conservée au British Museum (Tardy, French clocks. Clocks the world over, vol IV, Paris, 1949, plate CXXVI).
Un autre exemplaire également signé Pietro Tommaso Campani et daté 1663 est conservé au Kunsthistorisches Museum de Vienne. (A. Gonzalez-Palacios, Il tempio del gusto. Roma e il regno delle due Sicilie, vol. I, Milano, 1984, plate X).
Chantelou, dans son Journal du voyage du Bernin en France en 1665, mentionne une pendule offerte par le cardinal Antonio Barberini au roi Louis XIV. "Son Eminence (Cardinal Antonio Barberini) a fait voir au Cavalier (Le Bernin) une montre pour la nuit oy, par le moyen d'une lampe qui iclaire le cadron, on peut voir a toute heure de la nuit quelle heure il est. Il y a dans cette montre une tableau de Carlo Maratte, de petites figures d'un pied de haut que le Cavalier a fort louie " (A. Gonzalez-Palacios, Bernini as a Furniture Designer, "The Burlington Magazine", 1970, n. 812, vol. CXII, p. 719).

Le succès des pendules nocturnes incita d'autres grandes villes italiennes à se lancer dans la fabrication de ce type de pendule, en particulier la ville de Gènes. Au regard de son architecture et des matériaux utilisés, notre pendule semble devoir être attribuée à un atelier génois.
Estimate: 6,000/8,000 euros

Send this article to a friend