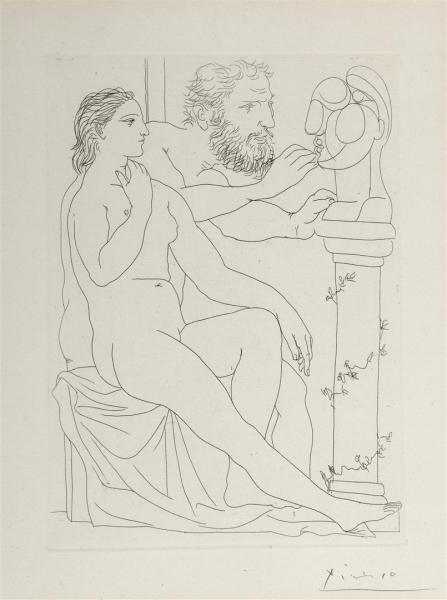 Philocale auctioneer in collaboration with our experts specialized in free valuation and free appraisal will auction a lithography by Picasso from the Vollard suite, on Saturday 11th November in Orleans.
PICASSO Pablo (1881-1973). Modèle et sculpteur avec sa sculpture, 17.3.1933. Eau-forte. Signé. 267 x 193 mm
Signé au crayon dans la marge en bas à droite dans la cuve.
Planche 38 de la Suite Vollard (Bloch 148, Baer 300).
Épreuve de l'édition Vollard à 250 exemplaires sur petit papier filigrané Picasso

Légèrement jaunie à l'ouverture d'un passe -partout, bords des marges tendus, infimes piqûres.Bas du feuillet a été découpé (sans doute pour l'encadrement), la bande manquante de 3cm de largeur est posée au verso et maintenue par de l'adhésif. Feuillet : 415 x 340 mm .
Estimate: 4,000/5,000 euros

Send this article to a friend