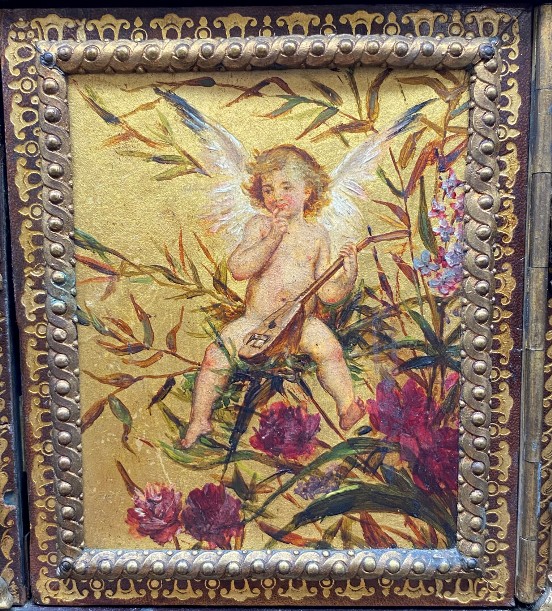 Encheres Occitanes auction house, in Montauban in collaboration with our experts specialized in free valuation and free appraisal sold at auction a circa 1900 leather table cabinet signed Weidman, Friday 9th April in Montauban.
Cabinet de table rectangulaire en bois gainé toutes faces de cuir marocain doré aux petits fers et polychromé, à décor de rinceaux feuillagés, écoinçons et placage de palissandre mouluré. Il présente en façade une niche foncée de peau rouge dorée aux petits fers (légères usures), un tiroir et deux vantaux à décor peint de putti polychromes sur fond doré (tâches et usures à la dorure et à la polychromie). Riche ornementation de métal doré tel que baguettes d'encadrements, mains tombantes, appliques aux écus surmontés de la tiare et des clefs papales et atlantes engainés. Il repose sur quatre pieds en boule tournée.
Signé en lettres dorées sur la tranche du tiroir : J Weidman Wien Badenbergerstr 7. Autriche, vers 1890.
Haut. : 42 cm - Larg. : 30,4 cm - Prof. : 16,5 cm.
Joseph Weidman ou Weidmann (1844-1905) : actif dans la seconde moitié du XIXe siècle, spécialisé dans les articles gainés de cuir, il livra en particulier un porte-document pour l'Empereur François-Joseph, vente Sotheby's Londres, 19 janvier 2016, lot 237. Son atelier était situé au 7, Badenbergerstrasse à Vienne. Note : Il est vraisemblable que notre cabinet de table fut une commande spéciale destinée au pape Léon XIII (pape de 1878 à 1903), dont les dates correspondent à la période d'activité de notre gainier, cependant l'absence d'armoiries sur le blason ne permet pas de confirmer cette provenance.
Estimate: 500/600 euros
Sold for 1,600 euros

Send this article to a friend