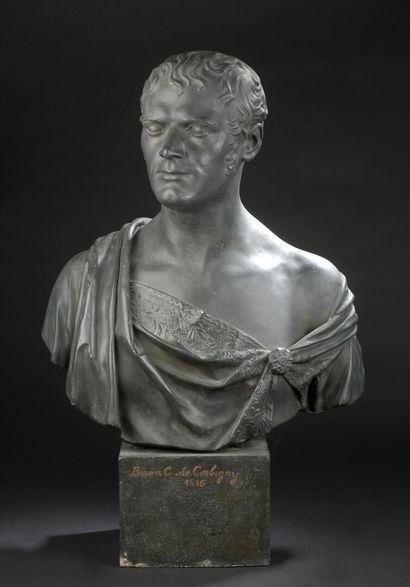 Daguerre auction house, in Paris, Semur-en-Auxois and Amboise, in collaboration with our experts specialized in free valuation and free appraisal sold at auction a Julie Charpentier patinated plaster of Mr de Corbigny, Friiday 26th March in Drouot Richelieu paris.
Julie CHARPENTIER (1770-1845)
Portrait du baron Louis Chicoilet de Corbigny, préfet du Loir-et-Cher (1771-1811)
Buste en plâtre patiné à l'imitation du bronze.
Signé et daté « Julie Charpentier / 1804 » en lettres cursives sur le côté du socle.
Porte l'inscription Baron c. de Corbigny / 1817 » en rouge sur le devant du socle.
Petits accidents
H. 78 cm dont socle H. 17 cm
Littérature en rapport : T.-C. Brun Neergaard, « Lettre sur un ouvrage de Mlle Julie Charpentier, statuaire », Revue
philosophique, littéraire et politique, 1er trimestre 1806, p. 364 ; rééditée dans Paul Lacroix, Revue universelle des Arts, t. 22, Paris-Bruxelles, 1865 ; p. 113-116 ; E. T. HAMY , « Julie Charpentier, sculpteur et préparateur de zoologie (1770-
1845) » , in Extrait du Bulletin du Muséum d'histoire naturelle, 1899 ; Anastasia Easterday, «Labeur, Honneur, Douleur :
Sculptors Julie Charpentier, Félicie de Fauveau, and Marie d'Orléans », in Woman's Art journal, 1997, vol. 18, n°2.
OEuvre en rapport :
Julie Charpentier, Fontaine Corbigny, marbre et motifs en bronze, square Saint-Vincent, Blois.
Issue d'une famille originaire de Blois et installée à Paris, Julie Charpentier a tout d'abord été l'élève de son père
graveur mécanicien inventeur d'un procédé de gravure mécanique qu'il céda au Comte de Caylus. A peine âgée de
dix-sept ans, Julie est reçue au Salon de la Correspondance dès 1787 où elle y présente un buste de sa soeur Adélaïde
en Vierge et un bas-relief représentant le duc d'Orléans.
Sa formation auprès de l'éminent Auguste Pajou, lui donne en effet très tôt de belles prédispositions pour l'art du portrait.
Elle devient l'une des rares femmes à être exposée au Salon pendant cette période entre la Révolution et la Restauration.
Elle n'y présente pas moins de 41 oeuvres entre
1787 et 1824, date à laquelle elle ne sculpte plus. Avant de se consacrer à la taxidermie pour le Museum d'histoire naturelle à temps plein en 1828, elle a aussi répondu à des commandes publiques. A la demande du préfet Louis Chicoilet de Corbigny, Julie Charpentier décore ainsi en 1805 la fontaine dite « Corbigny » dessiné par l'architecte Alexandre Pinault d'un bas-relief représentant une allégorie de la ville.
C'est à la même période qu'elle exécute le portrait du préfet commanditaire.
Estimate: 3,000/4,000 euros
Sold for 8,000 euros

Send this article to a friend