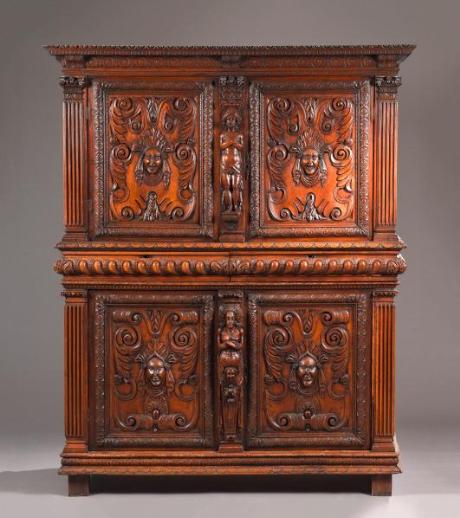 Guillaume Le Floc'h auctioneer in collaboration with our experts specialized in free valuation and free appraisal auctioned a French walnut cabinet from the Jacqueline Boccador collection the 9th June in Drouot.
Cabinet en armoire en noyer mouluré et richement sculpté. Il ouvre par quatre vantaux et deux tiroirs dans une importante structure architecturée de pilastres cannelés à chapiteaux. Il présente un important décor à motif de cuirs découpés centrés de tête d'indien pour les panneaux de porte, de godrons pour la ceinture et les dormants sont sculptés d'un homme en pied et d'une femme en gaine (manques aux moulures).
Dans le style d'Hugues Sambin.
Eléments anciens.
Haut. : 206 cm - Larg. : 161 cm - Prof. : 59 cm

Bibliographie : BOCCADOR Jacqueline, Le Mobilier Français du Moyen Age à la Renaissance, 1996, Éditions d'art Monelle Hayot, Saint-Rémy-en-l'Eau, page 238.
Estimate: 2,000/4,000 euros
Sold for 3,100 euros

Send this article to a friend