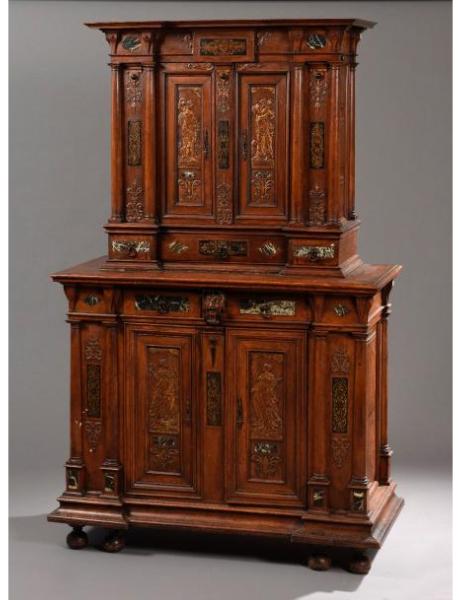 Guillaume Le Floc'h auctioneer in collaboration with our experts specialized in free valuation and free appraisal auctioned a French Renaissance walnut and gilwood cabinet from the Jacqueline Boccador collection the 9th June in Drouot.
Cabinet en diminutif en noyer mouluré à décor sculpté de végétaux stylisés et symétriques. Dans une structure architecturée il ouvre à deux petites portes et trois tiroirs en partie haute et à deux tiroirs et deux vantaux en partie basse. Les panneaux sont incrustés de plaquettes de marbre veiné et noir doré à la mixtion d'arabesques et de lambrequins. Les quatre portes, flanquées de doubles colonnettes engagées, sont sculptées en haut relief de quatre vertus cardinales dont la Tempérance, la Force et la Justice inspirées de gravures d'Heindrich Goltzius. Il repose sur huit pieds boule (traces de dorure, réparations, manque le fronton et quelques volutes).

École de Fontainebleau, seconde moitié du XVIe siècle.

Haut. : 177 cm - Larg. : 109 cm - Prof. : 51 cm



Provenance : ancienne collection du peintre Ferdinand Roybet (1840 - 1920).



Bibliographie : BOCCADOR Jacqueline, Le Mobilier Français du Moyen Age à la Renaissance, 1996, Éditions d'art Monelle Hayot, Saint-Rémy-en-l'Eau, pp. 240 à 243.



Jacqueline BOCCADOR en dit dans son livre : "Ce meuble-cabinet se caractérise par l'extrême harmonie de sa composition, son cadre essentiellement architectural, la belle richesse de son décor, et la grande habileté de l'imagier dans la réalisation des scènes mythologiques sculptées en bas-relief. Il peut être considéré, de ce fait, comme l'un des très précieux exemplaires directement inspirés de l'art bellifontain durant la seconde moitié du XVIème siècle et provenant des ateliers d'Ile-de-France".
Estimate: 8,000/10,000 euros
Sold for 14,000 euros

Send this article to a friend