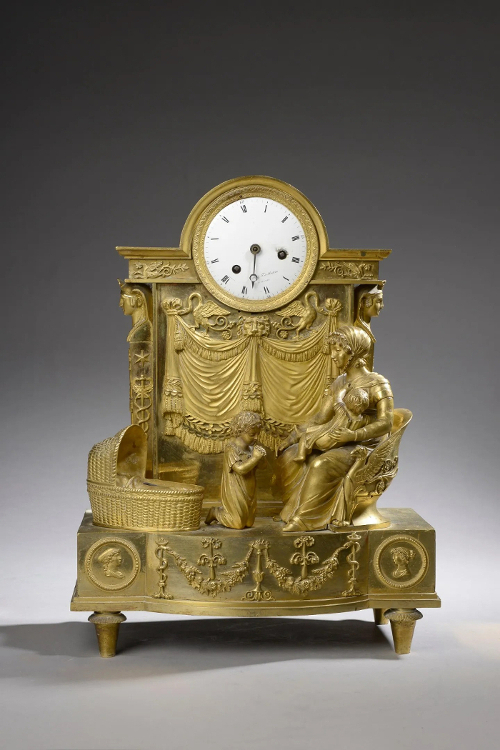 Le Floc'h auction house, in Saint-Cloud, in collaboration with our experts specialized in free valuation and free appraisal will auction a French Restauration ormolu clock, Sunday 12th February in Saint-Cloud.
Pendule en bronze ciselé et doré représentant la Duchesse de Berry allaitant le Duc de Bordeaux avec sa fille Louise en prière devant le couffin. Le cadran en émail blanc à chiffres romains et arabes en noir (égrenures, une aiguille manquante), s'inscrit au fronton d'un élément d'architecture orné de draperies et cygnes, les montants en cariatides à têtes d'égyptiennes. Signée LEROY, horloger de Madame à Paris.
Epoque Restauration.
Haut. : 41 cm - Larg. : 31 cm - Prof. : 15 cm
Note : Notre pendule fut exécutée d'après le dessin du bronzier Jean-André Reiche (1752-1817), auteur de nombreux modèles de pendules à succès sous l'Empire et au début de la Restauration.
Bibliographie : P. Kjellberg, Encyclopédie de la pendule Française, Paris, 1997, p. 429, fig. F.
Estimate: 1,800/2,200 euros

Send this article to a friend