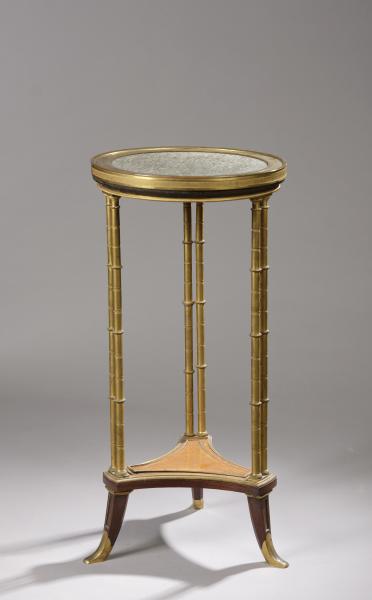 Guillaume Le Floc'h auction house, in Drouot and Saint-Cloud, in collaboration with our experts specialized in free valuation and free appraisal will auction a French Louis XVI style gueridon after Weisweiler attributed to Henry Dasson, Sunday 1st March in Saint-Cloud.
Guéridon tripode en acajou, placage d'acajou et loupe d'amboine, les montants en double colonnette en bronze ciselé et doré à l'imitation du bambou réunis par une entretoise concave à ressaut reposant sur trois petits pieds cambrés. Lingotière, sabots, bagues et filets en bronze ciselé et doré.
Plateau de marbre Campan vert.
Attribué à Henry DASSON.
Style Louis XVI.
Haut. : 76,5 cm - Diam. : 37 cm
Notre guéridon est une reprise du modèle réalisé à la fin du XVIIIe siècle par le célèbre ébéniste Adam Weisweiler, d'après le dessin du marchand mercier Daguerre, aujourd'hui conservé au musée des Arts Décoratifs de Paris.
Plusieurs guéridons similaires signés Dasson ont été vendus aux enchères en particulier :
- Christie's Paris, le 15 septembre 2016, lot 22.
- Chevaux-Légers-Enchères, Versailles, Maitre Chausselat, le 23 février 2014, lot 161.
Estimate: 2,000/3,000 euros

Send this article to a friend