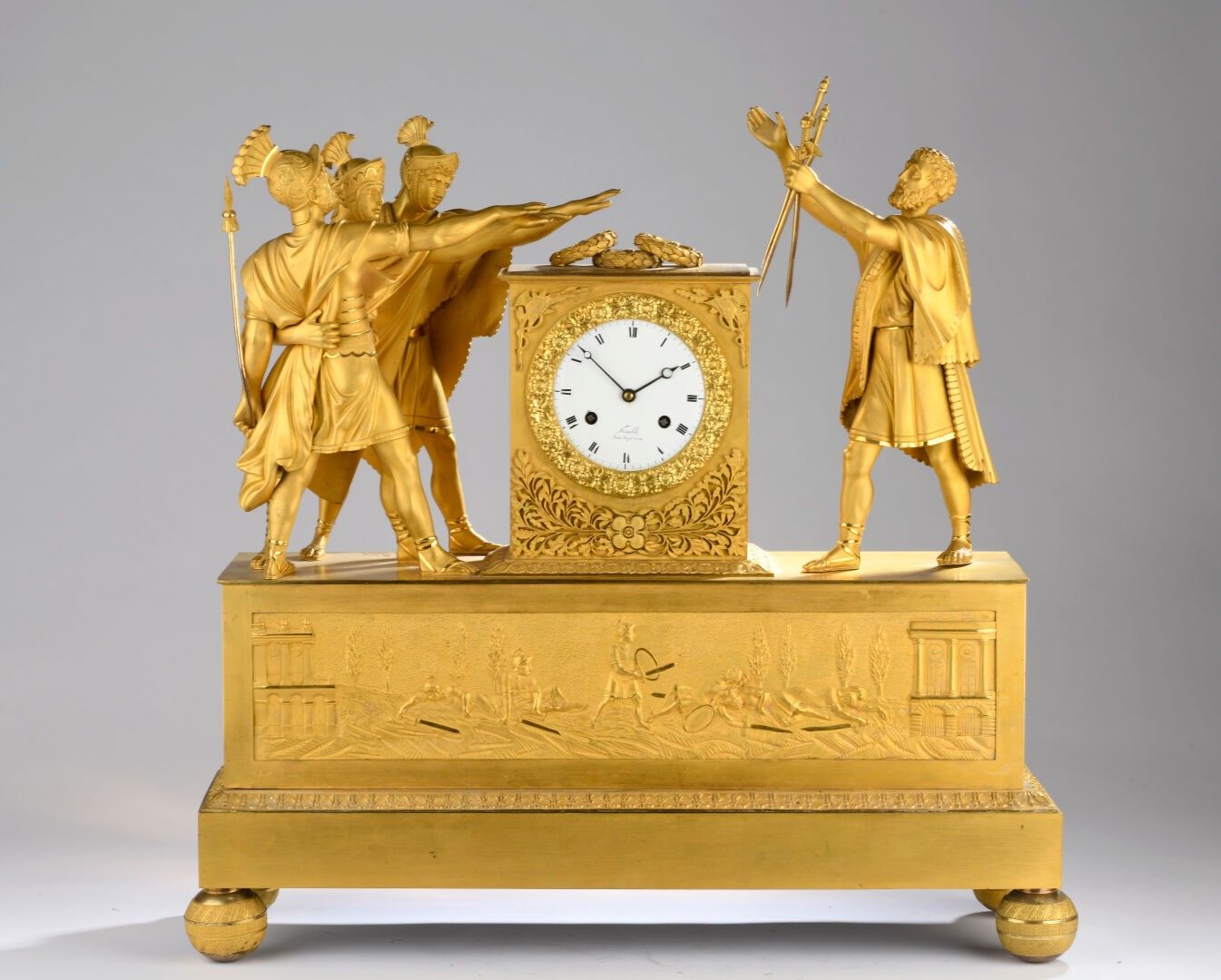 Philocale auction house, in Orleans, in collaboration with our experts specialized in free valuation and free appraisal will auction a French Empire ormolu clock, Saturday 23rd September in Saint-Jean-de-la-Ruelle.
Pendule au serment des Horaces en bronze ciselé et doré mate et bruni (usures), la borne central encadré des Horaces surmontée de trois couronnes de laurier, reposant sur une base quadrangulaire à décor en bas-relief de la bataille des Horaces contre les Curiaces sur un contre-socle à frise feuillagée à quatre pieds boule. Le cadran circulaire émaillé blanc (égrenures et cheveux) à chiffres romains en noir signé Kinable, Palais Royal No 131 dans un entourage de fleurs.
Circa 1810.
H. : 53 cm L. : 53 cm P. : 17 cm.
Kinable Dieudonné, horloger actif dès la fin du règne de Louis XVI, il collabora principalement avec Coteau et Dubuisson pour l'émail de ses cadrans.
Inspiré du tableau de Jacques-Louis David exécuté en 1785, le modèle de notre pendule fut particulièrement populaire sous l'Empire.
Ce modèle, connu dans différentes dimensions avec des variantes, fut réalisé par les bronziers Galle et Feuchère en particulier.
Des exemplaires sont conservés dans plusieurs collections publiques européennes :
- deux exemplaires dans les collections royales britanniques.
- un exemplaire au palais royal de Stockholm.
- un exemplaire à la Résidence de Munich.
Bibliographie :
- Kjellberg, "Encyclopédie de la pendule française", Ed de l'Amateur, p. 141.
- Augarde, "Les ouvriers du temps", Antiquorum, p. 339.
- Ottomeyer/Pröschel, "Vergoldete Bronzen", ill. 5.13.5.
-Dupuy-Baylet, "Pendules du Mobilier national 1800-1870", Ed. Faton, p. 108-109.
Estimate: 3,500/5,500 euros

Send this article to a friend