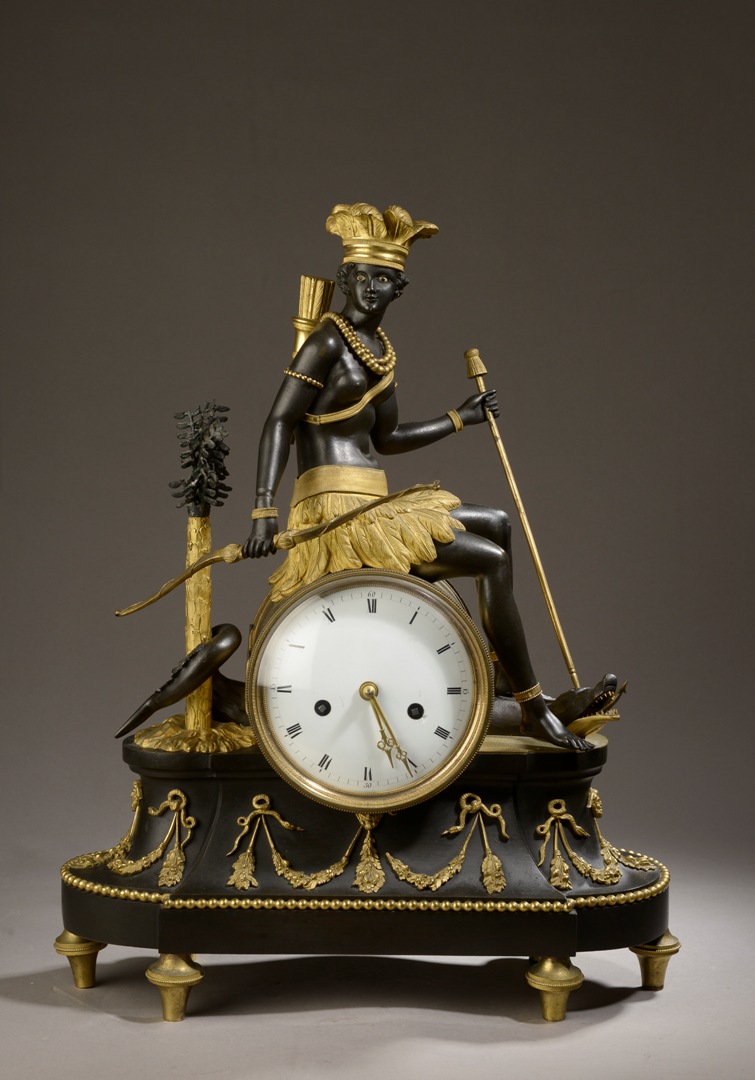 Le Floc'h auction house, in Saint-Cloud, in collaboration with our experts specialized in free valuation and free appraisal will auction a French early 19th century ormolu and patined bronze clock after a drawing by Deverberie, Sunday 16th October in Saint-Cloud.
Pendule dite « L'Amérique » en bronze ciselé, doré et patiné, une chasseresse amérindienne portant coiffe, pagne, bijoux, carquois, arc et lance, assise devant un palmier, les pieds posés sur un alligator. Le cadran circulaire émaillé blanc à chiffres romains et arabes en noir repose sur une base à six pieds appliquée de guirlandes fleuries en chute et frise de perles.
Début du XIXe siècle.
Haut. : 48 cm - Larg. : 36 cm - Prof. : 15 cm
Le bronzier Jean-Simon Deverberie déposa le dessin original de notre pendule en 1799, conservé au Cabinet des Estampes de la Bibliothèque Nationale.
Le modèle connut un grand succès et de nombreuses variantes nous sont parvenues en particulier dans les collections publiques :
- Musée Paul Dupuy, Toulouse
- Musée du Nouveau Monde, La Rochelle, inv. : MNM.1981.2.4
- Musée François Duesberg, Mons, Belgique.
Estimate: 10,000/15,000 euros

Send this article to a friend