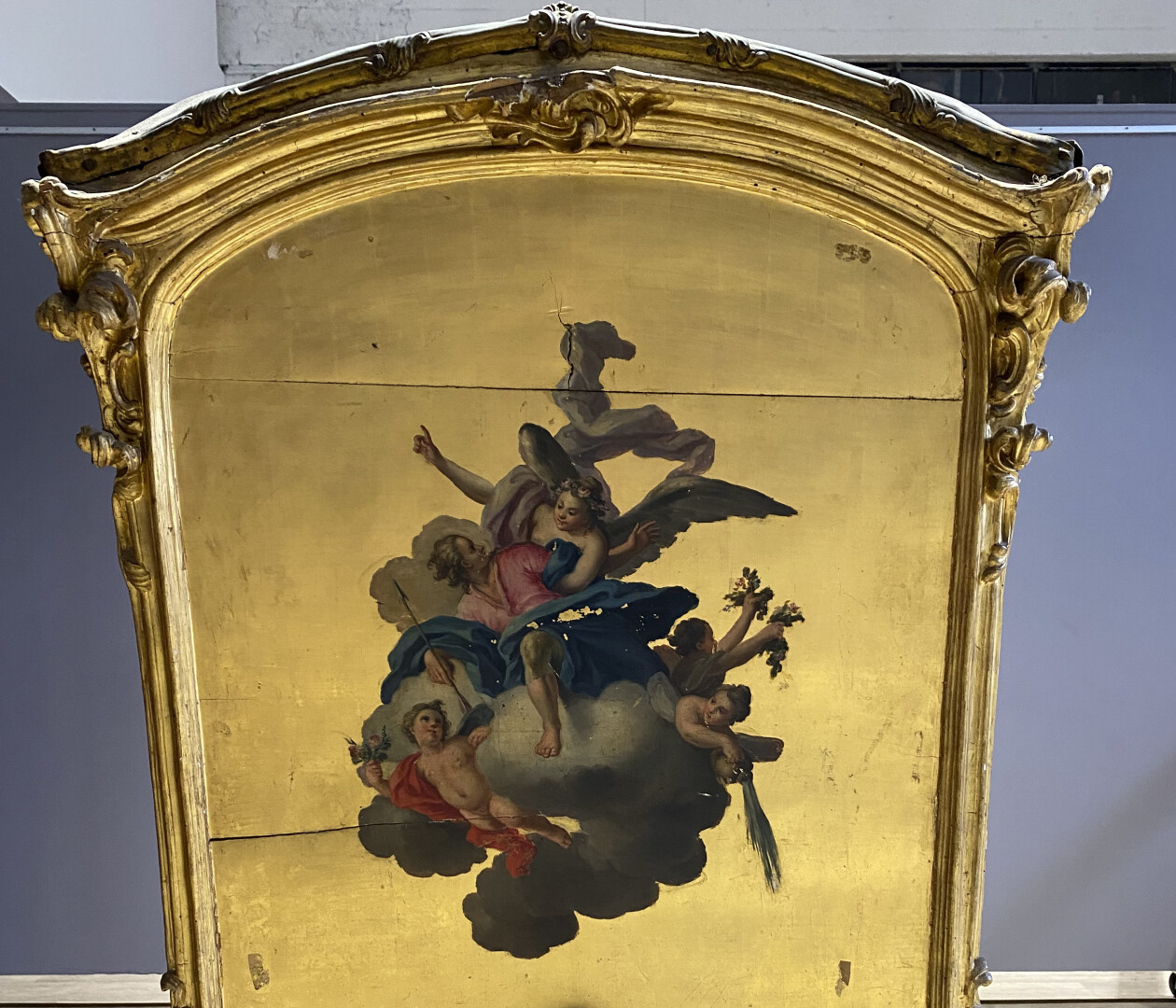 Encheres Occitanes auction house, in Montauban, in collaboration with our experts specialized in free valuation and free appraisal sold at auction an Italian 18th century giltwood sedan chair; Friday 9th April in Montauban.
Chaise à porteurs de forme mouvementée en bois mouluré, sculpté et doré, à décor de concrétions marines, festons, coquilles, enroulements et feuilles d'acanthe, à sept panneaux peints à fond doré des vertus cardinales dont la force, la fidélité, la sagesse, la richesse et de putti jouant. Elle ouvre en façade par un vantail vitré et présente deux fenêtres de chaque côté. Le toit amovible en toile enduite et ornements de bronzes dorés sur le pourtour (renforts sous la caisse, accidents, usures, manques, fentes, quelques reprises à la dorure, traces d'insectes xylophages, intérieur refait, vitres manquantes).
Attribuée à la manufacture royale des Bourbons.
Naples, seconde moitié du XVIIIe siècle.
Haut. : 175 cm – Larg. : 87 cm – Prof. : 85 cm.
Provenance :

– Achetée le 28 août 1953 à madame Juliette Renier à Chartres.
– Puis par descendance
Note :
Notre chaise à porteurs peut être rapprochée des multiples exemplaires provenant de la manufacture royale des Bourbons de Naples en particulier :
– E Baccheschi, Mobili Italiani del Meridione, Milan, 1966, p. 57.
– Une chaise conservée au Museo Nationale di Capodimonte, inv. 3375.
– Une chaise, vente Christie's Londres King Street, le 5 juillet 2001, lot 10.
– Une chaise vente Christie's Londres le 5 septembre 2013, lot 30.
La décoration des panneaux peints sur fond doré doit être rapprochée des productions de l'artiste Giacinto Diano (1730-1830), spécialisé dans la décoration de chaises à porteurs.
Estimate: 4,000/6,000 euros
Sold for 7,300 euros

Send this article to a friend