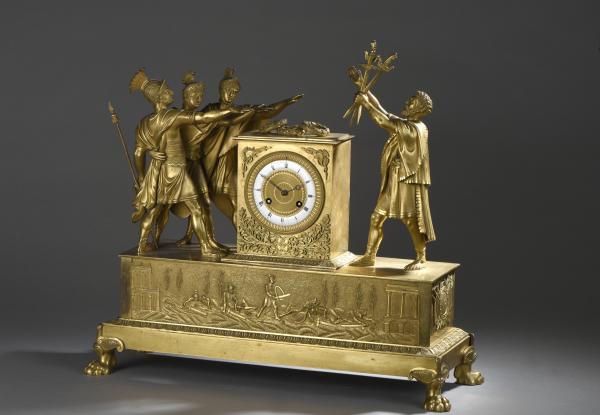 Philocale auctioneer in collaboration with our experts specialized in free valuation and free appraisal Authenticite auctioned an Empire ormolu clock.
Pendule à figures
en bronze ciselé doré figurant le serment des Horaces, le cadran émaillé blanc à chiffres romains noirs s'inscrit dans une borne feuillagée reposant sur un socle rectangulaire orné d'un bas-relief représentant le combat des Horaces contre les Curiaces à quatre pieds en jarrets ailés.
Époque Restauration.
Manque le balancier, un cheveu à l'émail, mouvement rapporté.
H. 66, L. 57, P. 20 cm.

An Empire ormolu Horaces clock.

Note :
notre pendule trouve son inspiration directe dans le célèbre tableau de Jacques-Louis David, " Le Serment des Horaces ". Le modèle connu un vif succès et plusieurs variantes dans ses dimensions ainsi que dans la base.
Des pendules identiques à notre pendule sont conservées :

- Deux exemplaires dans les collections royales anglaises.
- Résidence de Munich.
- Palais royal de Stockholm.
Une pendule identique est reproduite dans l'ouvrage de Pierre Kjellberg, " Encyclopédie de la Pendule Française ", page 411, fig. F.
Estimate: 2,500/4,000 euros
Sold for 2,900 euros

Send this article to a friend