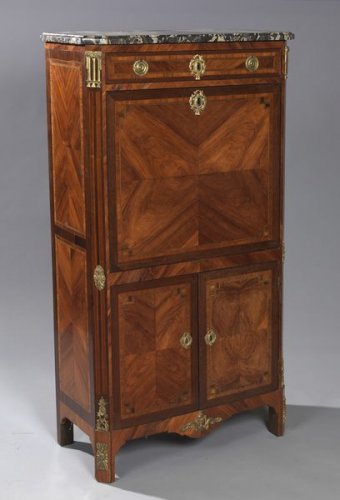 Philocale auctioneer in collaboration with our experts specialized in free valuation and free appraisal Authenticite auctioned a French Louis XVI parquetry secretaire.
Secrétaire rectangulaire en placage de bois de rose dans des encadrements de filets teintés formant grecques et d'amarante, à pans coupés à décor de cannelures simulées.
Il ouvre par deux vantaux découvrant un coffre fort en chêne et une étagère, un abattant dissimulant six tiroirs et quatre casiers et un tiroir en partie haute.

Estampillé deux fois "N A Lapie" et "JME".
Époque Louis XVI.
(Restaurations et accidents.)
Plateau en marbre gris Sainte Anne mouluré, garniture de bronzes ciselés et dor és tels que chutes, tablier, fleurons, entrées de serrure et anneaux de tirage.
H.143 cm L.79,5 cm P.37 cm.

Note :
Nicolas-Alexandre Lapie dit l'Ainé fut reçu maître en 1764.
Estimate: 1,800/2,500 euros
Sold for 2,200 euros

Send this article to a friend