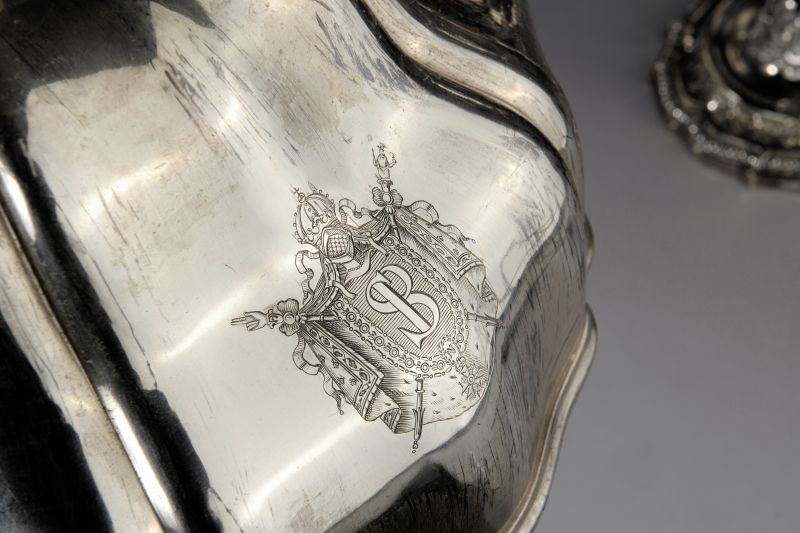 Sunday 1st December at Saint-Cloud, master Guillaume Le Floc'h auctioneer will sell jewelry, watches, fashion items especially Hermes and many silverware lots.
Let's look at lot 129, a pair of table covers and a heater, sold by one of our client following a free online valuation.
Overview

Our pair of covers, in polylobed shape, about cynegetic, is topped with a duck for one and a pheasant for the second, both based on a leaves terrace.
The stove is based on four cabriole legs terminating in a winding and having a shell with leaves on the shoulder and features two handles decorated with laurel leaves and gorse.
The three pieces of silverware have on the body the imperial coat of arms Bonaparte family in which the imperial eagle was replaced by the SP monogram intertwined.
The set was executed in silver plated by Christofle and bears the stamp of the master silversmith Charles Christofle et Cie.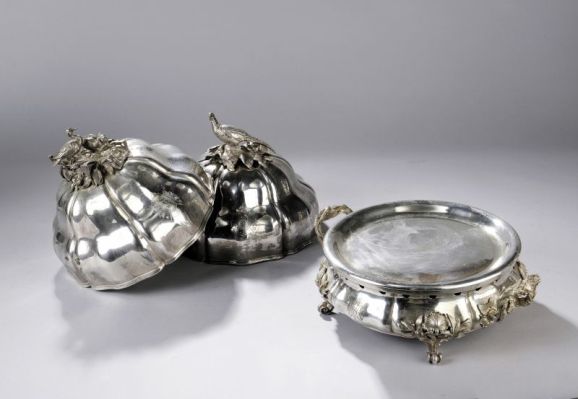 Provenance
These three pieces are similar to a silver service delivered by Christofle to the Emperor Napoleon III at the beginning of his reign. It appears that copies of the various services to the emperor were made in silver plated for the Imperial family.
A cover in silver plated by Christofle also was sold on December 1, 2003 by -Coutau Begarie lot 226. This cover included the same coat of arms that our covers and our stove.
The study of the genealogy of the Bonaparte house inclines us to attribute the SP monogram to Suzanne May (1812-1861) stepdaughter of King Jerome and wife of Jerome Bonaparte-Patterson (1805-1870) from the first marriage of the brother of the Emperor Napoleon with an American Elizabeth Patterson. It seems that Suzanne May has used the surname of her stepmother.
In his ascension to the throne, Napoleon III reinstated in his cousin and her two children in the imperial family and they are welcomed to Paris in 1854. Jérôme Bonaparte-Patterson died in the United States in 1870.
Therefore, our set of silverware can be dated between 1854 and 1861.
Christofle
It was in 1830 that Charles Christofle opened the Maison Christofle. Through the acquisition of numerous patents, Christofle specializes in silver plated so that its name became synonymous with it.
Charles Christofle became a supplier of Napoleon III in 1851 and then all the imperial and royal houses in Europe and Mexico for example. Christofle continues this tradition today by being the supplier of the Elysee.
Estimated between 1,000 and 1,200 EUR we expect that our set of silverware will create the surprise seducing hunting enthusiasts and fans of the Empire.
Informations:
Auction: Sunday 1st December at 14h30
Viewing: 29 and 30 November from 11h to 18h and on the 1st from 11h to 12h
Where: 3 boulevard de la République, 92 210 Saint-Cloud
Catalogue: www.authenticite.fr/pdf/lefloch_01122013.pdf
Images: © SVV Le Floc'h

Send this article to a friend