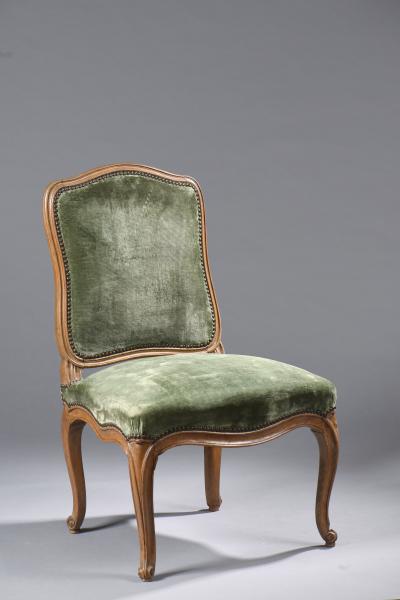 Philocale auctioneer in collaboration with our experts specialized in free valuation and free appraisal Authenticite auctioned a French Louis XV chair stamped Foliot.
Chaise à dossier à la reine
en bois naturel mouluré reposant sur quatre pieds cambrés.
Estampillé N Q Foliot
Epoque Louis XV.
Garniture de velours vert.
Accidents, restaurations, traces d'insectes xylophages.
H. 93, L. 60, P. 59 cm.

A Louis XV chaise a la reine stamped Nicolas Quinibert Foliot.

Note :
simplement moulurée, notre chaise peut être rapprochée d'un ensemble de sièges livrés par Capin en 1762 pour le château de Versailles comprenant 14 fauteuils, une paire est conservée au Getty Museum de Malibu (Inv.70.DA.70), 28 chaises, 9 lits, 7 écrans.
Nicolas Quinibert Foliot, reçu maître menuisier en 1729. Membre d'une des plus importantes dynasties de menuisiers en sièges parisiens du XVIIIe siècle, il réalisa de très nombreuses commandes pour la Couronne en tant que " Menuisier du garde-meuble du Roi " ainsi que notamment pour Louise-Élisabeth, duchesse de Parme.

Ses oeuvres sont présentes dans la plupart des grands musées internationaux :
-Paris, Carnavalet.
-Paris, Nissim-de-Camondo.
-Sceaux, musée de l'Ile de France.
-Versailles, château.
-Royaume-Uni, Waddesdon Manor.
-Malibu, Getty Museum.
-New-York, Metropolitan Museum.
-Saint-Petersbourgh, musée de l'Ermitage.
Estimate: 200/300 euros
Sold for 540 euros

Send this article to a friend