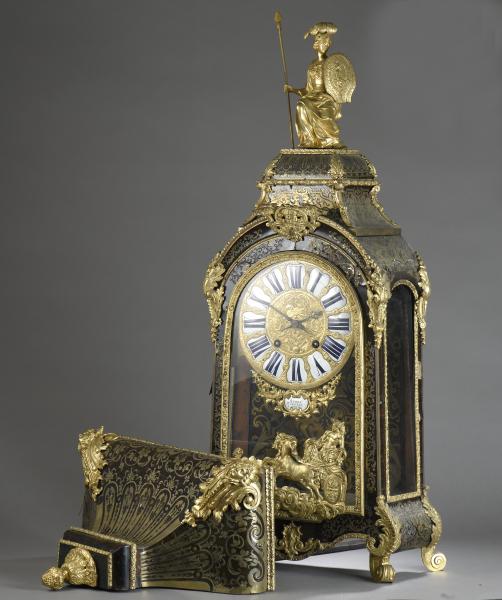 Philocale auctioneer in collaboration with our experts specialized in free valuation and free appraisal Authenticite auctioned a French Boulle parquetry bracket clock.
Cartel d'applique et sa console en marqueterie Boulle
en partie et contrepartie, d'écaille brune et de laiton à décor de rinceaux feuillagés. Riche garniture de bronzes ciselés et dorés, mouvement signé André Rousseau à Paris. Le cadran indique les heures en chiffres romains dans des cartouches émaillés bleu et blanc sur un fond présentant une allégorie de la musique, signé André Rousseau à Paris sur une plaque d'émail. A l'amortissement, il porte une statuette figurant Minerve, assise tenant sa lance et son bouclier et un mascaron représentant Chronos. Décor de chutes à feuilles d'acanthe et enroulements. Au centre, le tablier est orné d'Apollon sur son char sur une nuée, pieds à volutes. La console présente des chutes en espagnolettes et un culot en graine.
Époque Louis XIV.
Accidents et manques, suspension modifiée, balancier rapporté.
H. 136, L. 49, P. 25 cm.

A Louis XIV Boulle parquetry bracket clock

Note :
André Rousseau, frère de Pierre Rousseau, maître horloger à Paris, sa date d'accession à la maîtrise ne nous est pas parvenue.
Notre cartel se distingue par l'importance de sa garniture de bronzes au thème mythologique très présent.
La présence d'Athéna (Minerve) au sommet de notre cartel se rencontre rarement. Notre statuette se retrouve notamment au sommet d'un cartel d'André Charles Boulle, vendu par l'étude Piasa le 10 décembre 2008. La console peut également être rapprochée d'un dessin d'André Charles Boulle, conservé au Musée des Art Décoratif, inv 723D5, tant dans sa forme que dans ses bronzes, espagnolettes et culot. Le mascaron symbolisant Chronos doit être mis en relation avec les masques de vieillards présents sur de nombreux meubles d'André Charles Boulle.
Bibliographie :
Kjellberg Pierre, Encyclopédie de la Pendule Française du Moyen Age au XXe siècle, ed. L'Amateur.
Ronfort Jean Nérée, André Charles Boulle Un nouveau style pour l'Europe, ed. Somogy.
Estimate: 3,000/5,000 euros
Sold for 4,100 euros

Send this article to a friend