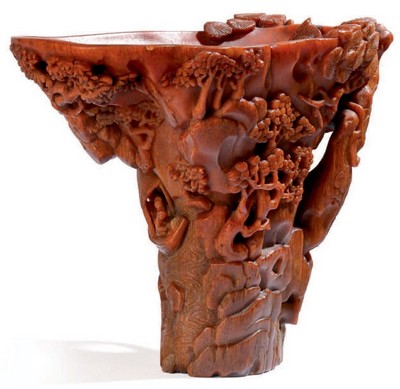 Rhino horn is a simple cluster of keratin, hair to make it simple! Yet, carved, especially in the form of cut, it turns heads and confirms the excellent health of Asian art market.
The rhino is the largest land mammal after the elephant and no known predators in the wild. For a hunter, it's one of the great trophies possible. In China, the Qing Dynasty (1644-1911), its delicate horns are cut, cored and sculpted. They then serve as supports for brushes, painter bucket, sleeves dagger or cups. Beverages such as tea are drank at ceremonies or spilled to the ground an offering sign. These libation cups, attribute of scholar, are an important sign of social prestige.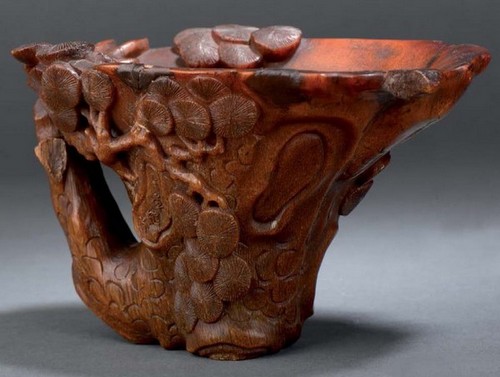 The material of these cups as the carved patterns are an evocation of nature related to Taoism. Lotus leaves, plants or animals mingling phoenix, or small figures in a landscape reminiscent to Man eternity of nature.
In China these cups no bigger than a mug, become so popular that they are copied in white porcelain and gradually become decorative. They are produced until the 19th century.
At the heritage value of these cups, is added that of their raw material: rhino horn. Powdered, Chinese medicine lends many virtues she would care for malaria, epilepsy, rheumatism or cancer and is even aphrodisiac. The rhino is now threatened with extinction. This scarcity makes its horn more precious, much more than the caviar and gold: rhino horn reaches €70, 000 kg, more than double the yellow metal. This "rhinomania" pushes zoos and reserves makers to cut their own horns mammals to prevent poaching. Trade horn - even old - is extremely controlled.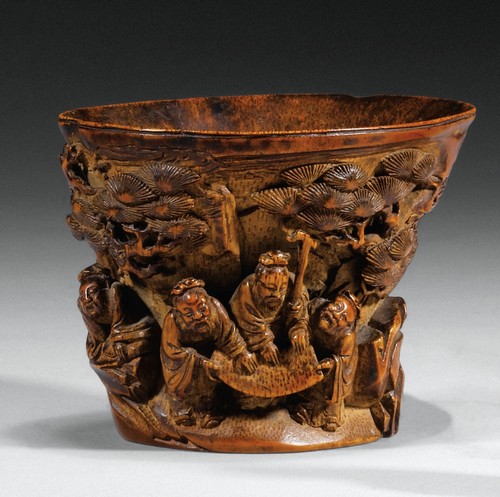 The soaring prices of the horn, rarity, even its possible disappearance, participate in the pricing of these old cups.
France is an important source of ancient Chinese art. The taste for these "curiosities" is initiated in the 17th century at the royal favour particular embassies in China. From the 19th century, wealthy travellers are at the initiative of fabulous collections. Today, the strong economic growth in China by extension benefits the art market. An anteriority French collection attracts many Chinese collectors eager to reclaim their heritage. Rhino horn cups today generate lust, and regularly see their estimation fly in auction and sometimes reach several hundred thousand Euros.
So look in your attic, your cupboards because who knows if a distant ancestor has not brought any of these valuable objects of a journey!
Anaïs Couteau
This article is published in collaboration with: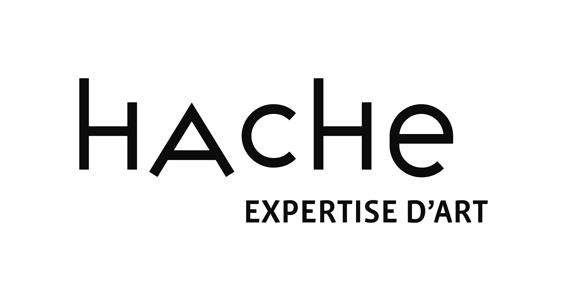 Art insurance specialist.
Images
1) © S.V.V. Tessier & Sarrou
2) © Sothebys
3) © S.V.V. Thierry Desbenoit et Associés

Send this article to a friend