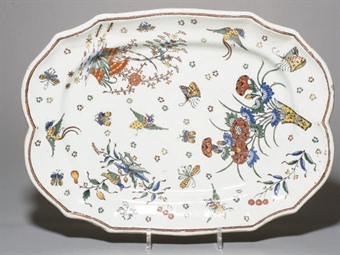 France had previously many earthenware factories known throughout Europe such as Nevers, Strasbourg, Marseille or Moustier.
But the oldest of them is Rouen showcase for the French way of life from the Renaissance to the mid-nineteenth century.
It is in the sixteenth century that the first French faience emerges with Masséot Abaquesne. This artist, native from Rouen is entrusted with important commands such as the pavements of Ecouen Castle between 1542 and 1559. Then he produced about 5000 apothecary jars on the model of Italian albarello for Pierre Dubosc in 1545.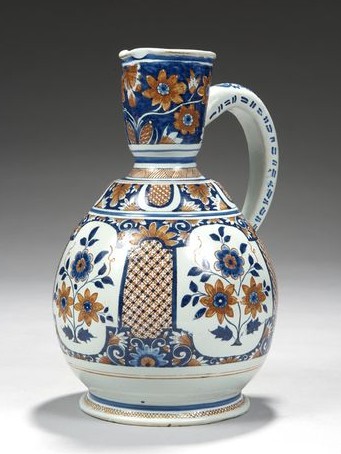 Rouen, grand feu, vers 1710, courtesy of Piasa
The history of Rouen then remains unknown for a century, until a privilege of the Conseil d'Etat for the manufacture of earthenware in 1644. The operation is entrusted to Poterat who becomes the owner. This is the beginning of a greater prosperity for the potter center which will count 18 factories at its peak and employ more than 1,200 workers. The last oven will be turned off in 1847.
Most of the pieces in Rouen faience are shaped like silverware.
At first, the pieces are decorated with blue and white pelmets which become a hallmark of the city. These pelmets are made with cobalt blue and enhance with red iron applied using the technique of Armenian bowl.
Gradually the scenery will be inspired by the Far East, very fashionable in the late seventeenth century. This is when Chinese characters or the branches of prunus appear in the middle of a fine grid in red and valances.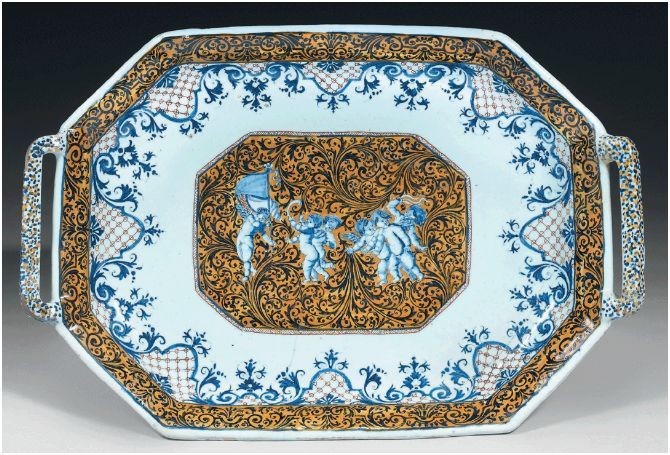 Rouen, banette à décor sur fond d'ocre niellé, courtesy of Piasa
Some pieces will also be decorated with pelmets in black on a niello ocher background, framing putti reserves. Its pieces are extremely rare but they are the specificities of the manufacture of Rouen.
At the end of the 18th century, a native from Rouen, Levavasseur, introduces the technique of "petit feu" allowing greater precision and especially a variety of colors much wider. That's when the pink (consisting of purple of Cassius) appears in decorations with Levantine merchants or cornucopia interwoven with flowers which become typical of the eighteenth Rouen.
All the pieces from Rouen are affordable, for the most, in a price range between 500 and € 3,000. But the price of a piece depends mainly on its shape, its design and its condition. The ewers and "petit feu" pieces are among the most popular. The most expensive pieces are plates or hampers decorated with on a niello ocher. In 2010, Piasa auctioneer sold one of them €64,000, which is one of the best auction result for a Rouen faience.
Bérénice Cugnière

Feel free to contact our fine art specialists if you want to appraise your works of art. We also assist you in the selling of your works of art : consultancy.


Main illustration:Courtesy of Christie's

Send this article to a friend