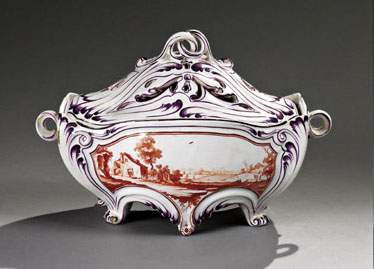 Niderviller is one of the many ceramic factories in the East of France during the 18th century. It distinguishes from the other by the originality of the paintings and the shapes of the pieces. Niderviller produced ceramics from 1735 to 1824 after that the production became industrial.
Have a look to the history and productions from Niderviller.

La manufacture de 1735 à 1824

En 1735, Anne Marie André, veuve Defontaine, ouvre une faïencerie sur son domaine sous la direction du maitre potier Mathias Lesprit de Badonviller. Douze ans plus tard, la propriété et la manufacture sont vendues par les héritiers André pour éponger une partie des dettes.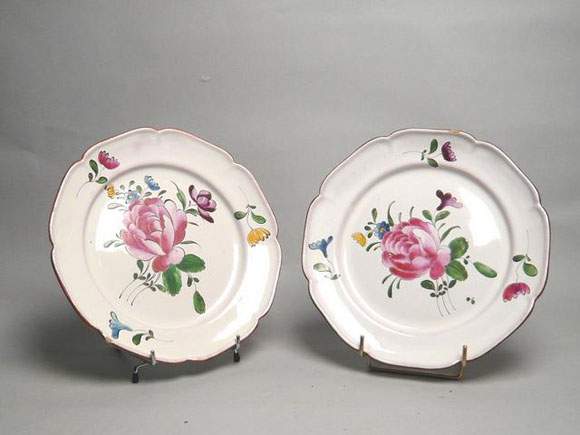 Paire d'assiettes à décor de bouquet de fleurs fine, faience de Niderviller, vente Sadde le 9 mars 2008, lot 153.

C'est Jean-Louis Beyerlé, alors directeur de la monnaie de Strasbourg, qui rachète la manufacture avec pour ambition d'égaler et de concurrencer la faïence de Strasbourg produite par la famille Hannong. Pour arriver à ses fins, il embauche plusieurs jeunes faïenciers et chimistes issus de la manufacture des Hannong et en particulier François-Antoine Anstette.
Anstette améliore la production et en 1759, il prend la direction de la manufacture. Il développe une production en « terre le pipe » et de statuettes polychromes en petit feu d'après Cyfflé. En 1763, il produit de la porcelaine dure grâce au concours de faïenciers allemands.
Il faut signaler que Niderviller n'a pas produit de céramique décorée d'or car la manufacture de Sèvres en possédait le privilège.
Un certain nombre de pièces produites à cette période porte la marque BN ou NB pour Beyerlé, Niderviller.

Le 6 décembre 1770, la manufacture de Niderviller est rachetée par le Comte de Custine qui s'associe rapidement à François-Henri Lanfray. Celui-ci développe une production à bas prix et des statuettes en biscuit.
Les pièces produites à cette période sont marquées de deux C enliassé parfois couronné.

Le 29 aout 1793, le comte de Custine est guillotiné et ce n'est qu'en 1802, que Lanfray reprend la manufacture à son compte.
En 1824, la manufacture est vendue à Louis-Guillaume de Dryander qui se lance dans une production faïencière industrielle.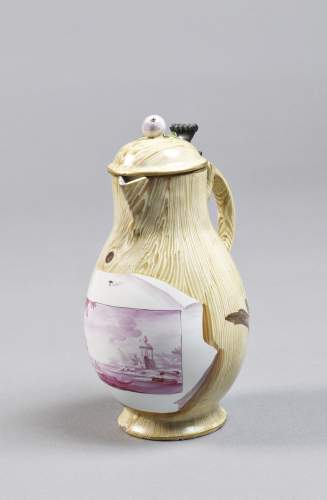 Niderviller, Verseuse couverte en faïence à décor en trompe l'œil à l'imitation du bois et d'un cartouche en camaïeu rose orné d'un paysage maritime animé de personnages parmi des maisons et un temple de l'amour, vente Perrin-Royère-Lajeunesse le 7 octobre 2007, lot 187.

Les décors

Les formes des faïences de Niderviller se caractérisent par la très forte influence du style Louis XV qui rapidement évolue vers un Louis XV assagi que l'on qualifie souvent de symétrique.

Le premier style de Niderviller est fortement influencé par Strasbourg :
-Ses fleurs fines se distinguent par leur transparence et leur ton plus aquarellé. On distingue sur certaines pièces jusqu'à quatre nuances de rose.
-Ses fleurs chatironnées à l'inverse se caractérisent par la vigueur de leur couleur.
-Les tiges des fleurs sont brisées comme zigzaguant, détail que l'on ne trouve qu'à Niderviller.

Un des décors particulièrement spécifique de Niderviller se distingue par une vignette en trompe l'œil en camaïeu rose attachée par une épingle ou un cachet de cire sur un fond peint à l'imitation du bois.
Parfois, la vignette est remplacée par une scène ou un paysage en plein également en camaïeu rose, et exceptionnellement polychrome, l'aile peut alors être traitée à jour à l'imitation de la vannerie.

On notera également des fleurs polychromes en reliefs sur les dormants et les anses des pièces de forme.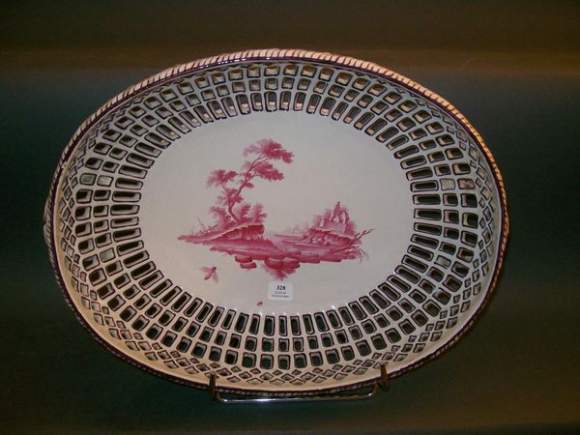 Niderviller, Corbeille ovale ajourée imitant la vannerie rehaussée de filets violets, décor en camaïeu rose au centre d'un paysage de bord de rivière et insecte, vente Pescheteau-Badin le 25 mars 2009, lot 328.

La dernière production est marquée par l'influence de Paul-Louis Cyfflé et se caractérise par des statuettes polychromes forts gracieuses et au charme familier. On y trouve tous les sujets chers au XVIIIème siècle, galants, pastoraux, mythologiques et allégoriques. Ce sont sans doute les scènes galantes et la série des petits métiers qui sont parmi les plus réussis. Il faut souligner que c'est grâce à l'emploi de terre de pipe que les pièces sont aussi parfaites. De même, les peintres font preuve d'une grande virtuosité dans le traitement des étoffes.


Les faïences de Niderviller sont aujourd'hui recherchées par les amateurs et les collectionneurs de faïences, en particulier de l'Est, car elles se distinguent par une très forte personnalité et une grande originalité dans ses décors ainsi que pour la qualité de ses peintres.


Cedric Henon
Specialist in fine furniture, ceramics and works of art


Illustration principale : vase pot pourri couvert de forme rocaille en faïence de Niderviller avec un paysage en camaïeu orangé, vente Piasa le 30 novembre 2007, lot 376.


Cedric Henon and Laurent Hache expertise your bronze, furniture, ceramics, seat or sculpture, for sale, auction, insurance or inventory. You can contact us by phone +44 796 722 3146 or +33 1 40 26 05 46.




Send this article to a friend