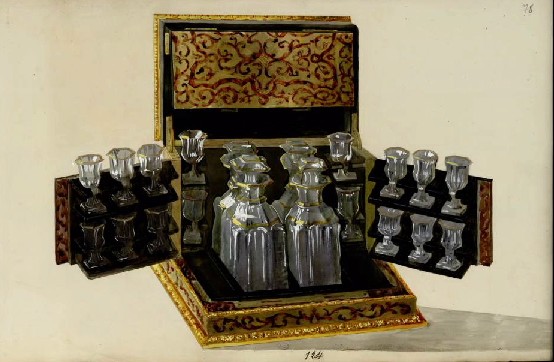 The second half of the 19th century was the golden age of the liquor caskets, work of art dedicated to men.
Caskets, retaining decanters and glasses necessery in the tasting, demonstrate the art of hospitality in the reign of Emperor Napoleon III.

Décors simples ou élaborés

Les coffrets de ces caves à liqueur sont en majorité en bois noirci à filets de laiton incrusté. Ces bois teintés imitant l'ébène sont particulièrement à la mode sous le second Empire.

Peu de caves à liqueur sont marquetées de bois rares, d'ivoire ou d'écaille de tortue. La marqueterie Boulle est une technique de décor élaboré et couteuse.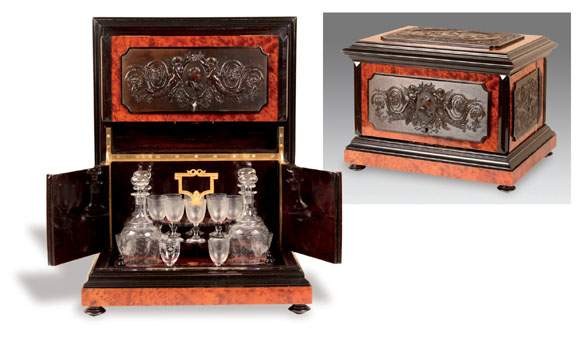 Cave à liqueur en placage de loupe de thuya à panneaux à médaillon. La cave est présentée ouverte et fermée . Copyright Osenat.

Encore plus rares sont celles faites de bronze doré. On trouve parfois en ventes aux enchères des caves à liqueurs dont le décor de bronze est de type « japonisant ». Elles nous rappellent l'intérêt que les Européens ont porté aux arts du Japon ou de Chine à la fin du XIXe. Leurs montants de bronze imitent le bambou, leurs pieds les têtes d'éléphant d'Asie par exemple.

Réalisées par les meilleurs artisans de l'époque Napoléon III, les caves à liqueur sont parfois signées par leurs créateurs. Leur marque est généralement gravée sur les plaques de laiton de leurs serrures ou sur leurs dessous. Si vous possédez l'un de ses chefs-d'œuvre vous pourrez peut être y trouver la marque de la Maison Tahan, fournisseur de l'empereur, ou celle de l'illustre cristallerie Baccarat toujours en activité.

De l'importance du service…

Mais attention, il suffit d'un verre perdu et votre cave peut perdre jusqu'à la moitié de sa valeur… Il en effet très difficile de le réassortir sans avoir à le changer complètement.

Ce service est généralement constitué de 2 à 4 carafes et de 10 à 20 verres disposés dans leurs compartiments appropriés. Une cave pouvant contenir plus de vingt verres ou gobelets de métal, témoigne de la richesse de son ancien propriétaire.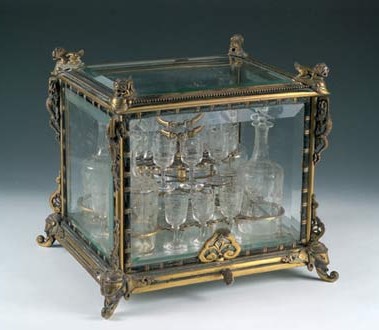 Cave à liqueur à châssis de bronze doré dont le motif est inspiré par les Arts d'Asie. Travail de la Maison Jean à Rennes. Copyright Boisgirard et Associés.

Le cristal coutera d'avantage que le verre. Il pourra être taillé d'un décor simple inspiré de la nature ou d'un décor beaucoup plus rare représentant une scène de chasse. Les modèles les plus riches sont ensuite dorés.

Un marché au prix variés

Le prix d'une cave à liqueur dépend dans un premier temps de sa rareté. Un modèle en bois noirci se négociera à partir de 200 € quand celui en bronze doré de forme circulaire et signé Baccarat ne sera pas cedé à moins de 5000 €.

L'état de conservation de la cave est un second critère primordial. Une cave à liqueur dont le placage présente des manques ou des soulèvements pourra coûter plus cher en restauration que son prix d'achat. Bien que les caves en marqueterie boulle soient rares, des coffrets en mauvais état se vendent aujourd'hui moins de 300 €.

La provenance est enfin un critère important dans la définition du prix. Une cave à liqueur en bois noirci et présentant un riche service au décor doré, estimée 800 à 1200 € par les experts de Christie's, s'est vendue plus de 8000 € lors de la vente Pierre Bergé/Yves Saint-Laurent de novembre dernier.


Laurent Hache, expert en meubles et objets d'art anciens

Illustration principale : Cave à liqueur en marqueterie Boulle, gouache su papier, Maison Alphonse Giroux, époque Second Empire,copyright M.A.D.



Feel free to contact our fine art specialists if you want to appraise your works of art. We also assist you in the selling of your works of art : consultancy.





Send this article to a friend