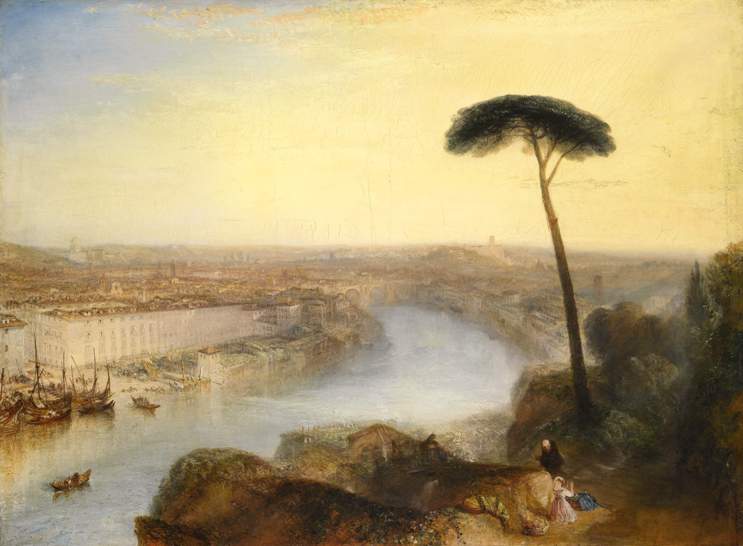 If today New York is the capital of the auctions of modern and contemporary paintings, London remains the temple of Old Masters painting as just illustrate by the auction house Sotheby's at its vacation on 3 December which saw an oil on canvas by Turner sold for £30,3 million with an estimated 15 to 20 million pounds.
Roma from Mount Aventine
Our oil painting was commissioned from William Turner (1775-1851) by one of its patrons, Hugh Munro of Novar in 1828 and asked for 7 years of work to the artist. The picture was painted in 1835 and exhibited in 1836 at the Royal Academy where it was regarded then as the most beautiful painting of Turner and the most beautiful view of Rome.
In 1878, our painting sold for record sum at the time of £6.142, to the fifth Earl of Rosebery, and then was passed by descent to the present.
Never restored on its original canvas, our oil is in a conservation status quite exceptional, according to Sotheby's, Turner brush hairs are still present.
Our painting is part of the ten major works by Turner still in private hands, which explains the appetite of bidders who doubled the estimate of the auction house.
Turner
Joseph William Turner (1775-1851) was an English painter of the Romantic period. He specialized in landscape paintings and history painting. It is often called "the painter of light" and is often considered as the precursor of Impressionism. It was also a great watercolorist.
The Earl de Rosebery and Mentmore Towers
Our painting was preserved until the mid-70s to Mentmore Towers castle built for the Baron Mayer de Rothschild, whose only daughter brought the fabulous collections of the castle to the fifth Earl of Rosebery, who was later Prime Minister of Great Britain. Aficionados of auctions know Mentmore following the sale of a large part of the collections of ancient paintings, French royal furniture, sculptures, silver and porcelain preceding the sale of Mentmore to pay inheritance tax.
It faced then with another work by Turner now in the Getty Museum. Since the 80sit was on loan to the National Gallery of Scotland.
Legendary work with a perfect history, the price of our painting may seem astronomical, but it is justified in terms of its quality and the importance of Turner.



London had the highest bid for an old painting with a work by Rubens; the sale of the Turner confirms that dominant position and demonstrates the ancient art far from being out of fashion is still sought after by many enthusiasts and collectors.



Image: courtesy of Sotheby's

Send this article to a friend