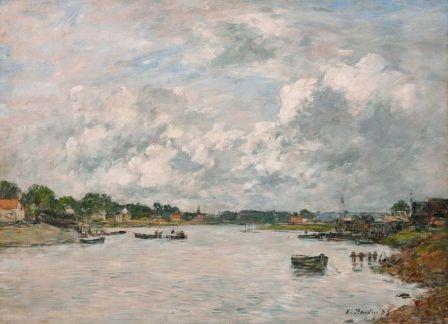 Painter recognized by fans and collectors of paintings, but unknown to the general public, Eugène Boudin (1824-1898) captivates and enchants with his seaside skies.
Let's focus in this artist and his influence on some big names of Impressionism.
Eugène Boudin was born in Honfleur in 1824, his father then was a sailor between Le Havre and Hamburg. In 1835, the family moved to Le Havre and his father exchange for a career of stationer. Soon, the young Boudin also became assistant- at a stationer frame maker.
At the age of 20, he opened his own shop and became familiar through it to many artists in the region, painters Constant Troyon, Eugène Isabey, Jean-François Millet and Thomas Couture and the poet Charles Baudelaire.
Encouraged by these new friends, Boudin leaves his shop and devoted himself to painting following the course of "ecole municipale de dessins du Havre". He was then 22 years old.
Noted for his talent, he received a scholarship from Le Havre in 1850, and goes to Paris in apprenticeship to perfect his art. He entered the studio of Eugène Isabey and copies also the great masters of the Louvre for wealthy amateurs.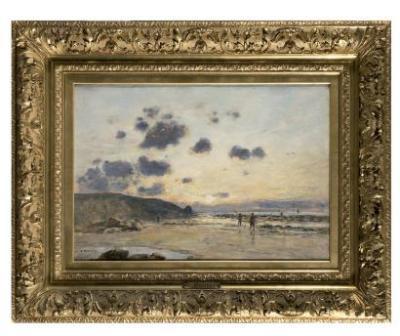 "Marée basse", circa 1890, ©Aguttes
In 1859, Boudin exhibited his first painting at the Salon de Paris and binds with many artists, who recognize him as a great painter, Gustave Courbet, Jongkind and Monet. Eugène Boudin introduce the latter to the painting outdoors.
He exhibited in 1874 at the first Impressionist exhibition at Nadar and then Durand-Ruel and continues to travel throughout Europe.
He died in 1898, leaving behind an impressive oeuvre counting approximately 4500 paintings, oil on canvas and oil on panel, and at least as many drawings, pastels and watercolors.
Surnamed by Camille Corot "the king of the sky," paintings by Boudin are distinguished by the quality of its rendering of the sea shores.
His paintings sell at auction from a few thousand Euros and 150 000 Euros depending on the size and above them the subject; marine having the preference from amateurs.
Recognized in his lifetime by the greatest painters of his time, Eugène Boudin is a sure value of the art market and paintings are exhibited in many museums both in France and abroad.
Cédric Henon, fine art specialist

Feel free to contact our fine art specialists if you want to appraise your works of art. We also assist you in the selling of your works of art : consultancy.
Main illustration: « Les bords de la Touques », 1883, ©Artcurial

Send this article to a friend