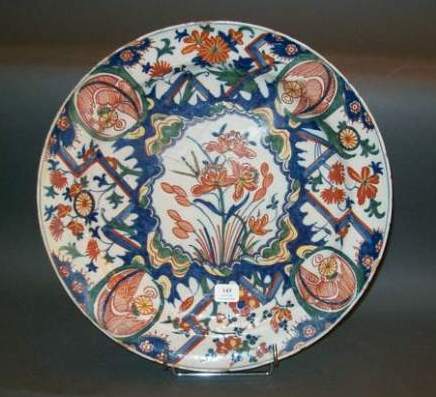 From the many ceramics centers that emerged in the seventeenth century in Europe, Delft is the best known and most sought after by collectors of ancient ceramics. Contrary to Rouen and Nevers, Delft specialised in porcelain imitation from China and Japan brought back by the Companie des Indes in Europe.

Ainsi, en plein Age d'Or hollandais les manufactures de Delft connaissent leur apogée de 1640 à 1740 grâce à ce que l'on nommait alors « Hollants Porcelyn » ou « porcelaine de Hollande ». En fait, il ne s'agit pas de porcelaine mais de faïence, les céramistes hollandais ignoraient que le secret de la blancheur des porcelaines d'Extrême-Orient se trouvait dans l'emploi de kaolin.

Principales caractéristiques.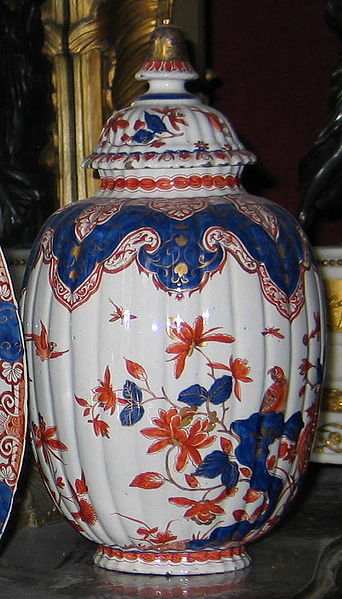 Delft, vase à decor dit Delft doré, collection du musée Geelvinck-Hinlopen

- la terre est beige, légèrement rosée. Cependant cela n'est visible que si la pièce a été endommagée, l'email en recouvrant la totalité. Il faut souligner la finesse des pièces.

- l'émail des faïences de Delft est remarquable par la brillance qu'il confère aux œuvres produites à Delft. En outre, l'émail est particulièrement dur et ne s'écaille pas. La surface de la pièce est lisse.

- la majorité des objets produits à Delft sont à fond blanc. Il faut également souligner une production de fonds colorés en particulier noir, marron, bleu turquoise. Certains fonds sont bicolores et généralement bleu et blanc.

- si la réputation des faïences de Delft vient en grande partie des décors bleus, les céramistes de Delft utilisèrent fréquemment la couleur à l'imitation des porcelaines d'Asie et notamment pour les décors dit Imari. Ainsi à Delft, le bleu se décline selon toute sa gamme et l'on trouve également du vert et du rouge.

- les décors sont cernés, c'est-à-dire qu'ils présentent un fin trait noir soulignant les différents motifs peints.

Les décors.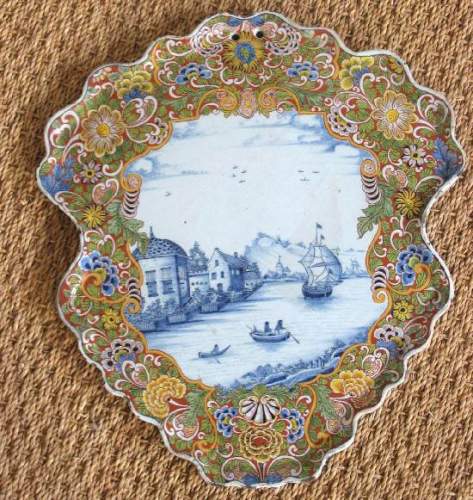 Delft, plaque de forme contournée à décor camaïeu bleu, XIXème siècle, vente Maitre Sadde le 24 janvier 2009, lot 100, adjugée 5600 euros.

- le plus célèbre de tous les décors produits à Delft est réalisé en bleu sur fond blanc et se caractérise par sa surcharge et son exubérance. Il peut s'agir de fleurs souvent de grosses pivoines mais également des scènes de vie à la campagne, des armes et devises d'une famille, des chansons, des marines, des scènes galantes, des batailles et des chasses, reproduisant fréquemment des tableaux de petits maitres.

- l'imitation des porcelaines de Chine et du Japon avec notamment le décor Imari en bleu, vert et rouge. Certaines pièces sont rehaussées d'or.

Les formes.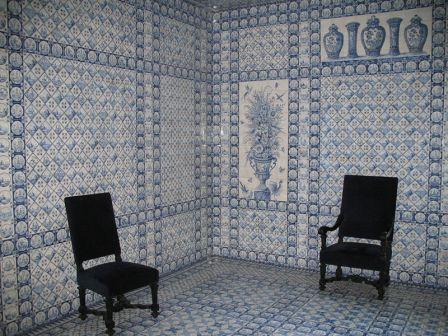 Salle dite des Tartares au château de Groussay dont les murs sont recouverts de 10 000 carreaux de faïences de Delft.

- les potiches, garnitures et assiettes se trouvent facilement sur le marché.

- les carreaux en faïence sont une spécialité de Delft. Ils étaient destinés au décor des murs et leur décor est en camaïeu de bleu.

- les tableaux de forme ovale ou rectangulaire furent réalisés entre 1650 et 1680.

La seconde moitié du XVIIIème siècle marqua le déclin de la faïence de Delft dont la production est concurrencée par la porcelaine et la faïence fine anglaise.
Ce n'est qu'à la fin du XIXème siècle que de grands collectionneurs se prennent de passion pour ces faïences qu'ils léguèrent souvent à des musées.

Delft est probablement à l'origine du gout pour la céramique et les arts du feu d'une grande partie de l'Europe. Les productions de Delft supplantèrent les majoliques italiennes et marquèrent l'art des céramistes de manière importante.

Cedric Henon
Specialist in furniture and works of art

Illustration principale : Delft, plat rond à décor polychrome dit à la foudre, XVIIIème siècle, vente Pescheteau-Badin le 25 mars 2009, lot 143.


Feel free to contact our fine art specialists if you want to appraise your works of art. We also assist you in the selling of your works of art : consultancy.





Send this article to a friend