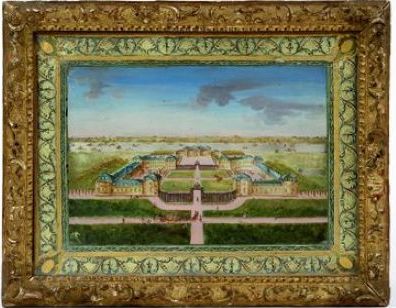 Furniture in the eighteenth century required the intervention of a large number of artisans for the marquetry and the bronzes. According to the rules of the corporation, the tabletiers were in charge of providing cabinet boxes, boxes for play, necessary pawns lady and backgammon tables.
Most tabletiers remains little known to the unknown specialist and the general public. There is however one that gave its name to the small work of art of his creation, Thomas Compigne.

Un tabletier originaire d'Italie

Arrivant d'Italie probablement vers 1750, Thomas Compigni prit le nom de Compigné. Sa boutique à l'enseigne du roi David, rue Greneta à Paris était spécialisée dans la fabrication et la vente de boîtes, jeux de tric-trac, de dames et d'échecs, de tabatières et autres poignées de canne en écaille blonde incrustées d'or. Compigné rencontra un certain succès auprès de ses contemporains avec son commerce et sa clientèle était nombreuse.

Ce n'est pourtant pas pour cette activité que son nom est passé à la postérité. Il est l'auteur de petits tableaux particulièrement précieux utilisant une technique qu'il mit au point et dont le secret nous reste mystérieux aujourd'hui encore.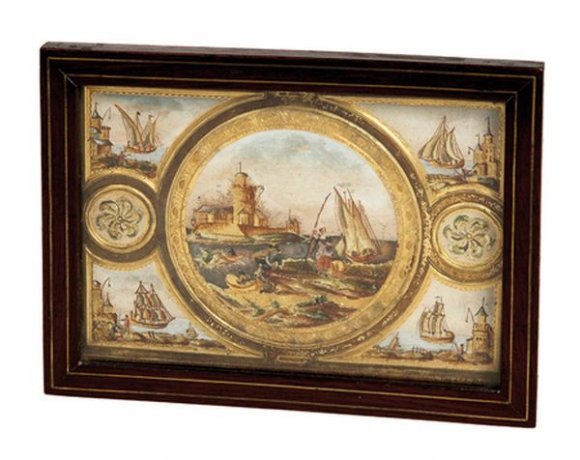 Compigné, vue de Marseille, vente Tajan le 24 juin 2010, lot 173.

Un secret bien gardé

Ses tableaux sont composés sur une feuille d'étain estampée qui est appliquée sur une feuille de carton ou d'écaille. L'étain est ensuite décoré à l'or, l'argent, la gouache et aux vernis colorés.
Ces «miniatures», aujourd'hui connues sous le nom de Compigné, connurent un très grand succès dans les années 1760. Leur qualité et le secret qui les entourent lui valurent le titre de tabletier privilégié du roi sous Louis XV et sous Louis XVI.

En 1766, ses précieux tableaux sont ainsi décrits : "la peinture est actuellement unie à la sculpture. sur fond d'écaille ou de composition amalgamée en or de couleur. De prés. de loin. au jour. à la lumière. Ces tableaux font également un grand effet par le mélange. L'assortiment et la transparence des couleurs que l'artiste y sait employer"

Des tableaux aux thèmes variés

Les sujets de ses tableaux sont variés et souvent animés de personnages, on trouve des vues de châteaux en particulier Choisy et Saint Hubert, de villes, de monuments, des paysages et, l'époque s'y prête, des scènes de genre et des pastorales.

Il transmit son secret à son élève Charles-Louis Chevalier qui fut reçu maître tabletier en 1776.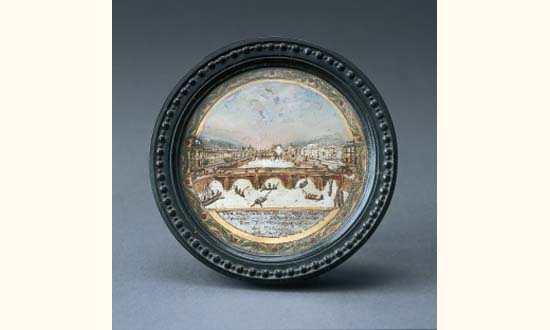 Compigné, vue du Pont Royal, vente Artcurial, le 17 décembre 2003, lot 254.

La gamme de prix pour les œuvres de Compigné est large de 1 500 € a plus de 20 000 €.


Ses œuvres, toujours de grande qualité, sont aujourd'hui recherchées des amateurs pour leur qualité d'exécution et les jeux de couleurs entre l'or,l'argent et l'étain.


Illustration principale : Compigné, vue du château de Saint Hubert, vente Tajan le 20 juin 2006, lot 132.


Cedric Henon, Fine Art Specialist

Cedric Henon and Laurent Hache expertise your bronze, furniture, ceramics, seat or sculpture, for sale, auction, insurance or inventory. You can contact us by phone +44 796 722 3146 or +33 1 40 26 05 46.




Send this article to a friend