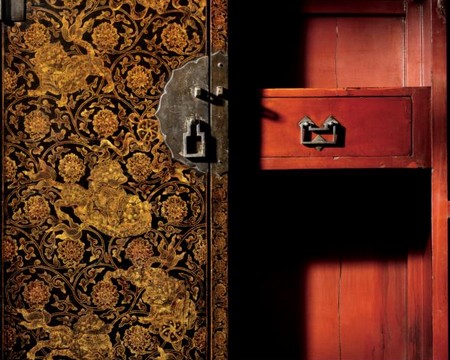 The ancient Chinese furniture are rare on the market. On Wednesday April the 8th will take place at Sotheby's Hong Kong an exceptionnal auction. The Biegucang collection consisting of beautiful furniture lacquer most of Ming period will go under the hammer.

J'ai sélectionné pour vous quatre lots intéressants.

Paire d'étagère en laque sculptée et dorée, d'époque Wanli (1572-1620)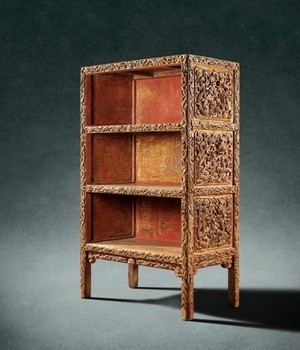 Ces étagères sont réalisées en bois appelé "Golden Thread nanmu". Le nanmu est un bois de couleur légèrement orangée avec des reflets verts, ce qui lui donne une texture chaude et un lustre rappelant la soie ou le satin. L'histoire veut que le nanmu provienne des montagnes du Sichuan. C'est cette couleur si particulière, comme s'il était constitué de fils d'or, qui lui a valu l'appellation de "Golden Thread nanmu".
Les panneaux sont finement sculptés et dorés et représentent des dragons parmi des nuages. Les quatre pieds quant à eux, figurent les "cinq montagnes sacrées", le motif décoratif le plus ancien en mobilier chinois.
Cette paire d'étagères est estimée entre 1 500 000 et 1 900 000 Euros.

Paire de fauteuils en laque noire et incrustations de nacre, d'époque Kangxi (1661-1722)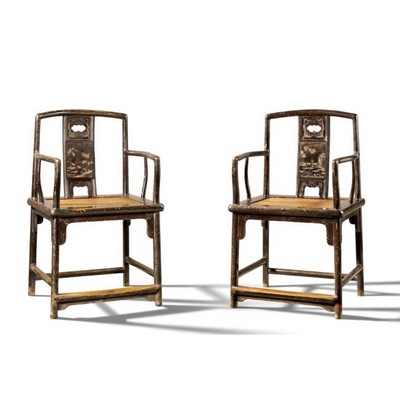 Ces fauteuils sont réalisés en bois laqué noir et incrustés de nacre et de pétales d'or et d'argent. Ce dessin et ces décors ne sont pas sans rappeler une atmosphère raffinée de cour. Ce style de fauteuil est dit "nanguanmao yi", c'est-à-dire qu'il s'agit d'un type de fauteuil officiel. Ces fauteuils sont des exemples typiques du mobilier de palais de l'époque Qing, reprenant d'anciens modèles de la dynastie Ming.
Cette rare et très délicate paire de fauteuils est estimée entre 145 000 euros et 191 000 euros.

Longue table en laque noire à pieds suspendus, datée de 1618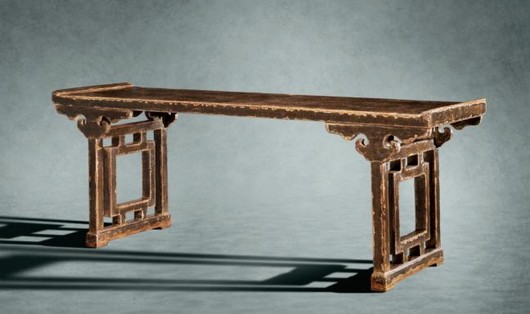 Outre la légèreté et l'élégance du dessin, la rareté de cette table est due au fait qu'elle soit datée avec précision. En effet, on trouve sous la table une inscription fine et précise : "réalisée la quarante-sixième année du règne de Wanli durant la grande dynastie des Ming". Les meubles chinois, même impériaux, portant des dates sont extrêmement rares. Nous n'en connaissons qu'une trentaine et parmi eux, les meubles datés du règne de Wanli sont les plus nombreux.
Cette superbe table est estimée entre 385 000 et 570 000 euros.

Cabinet peint et doré en laque, d'époque Wanli (1572-1620)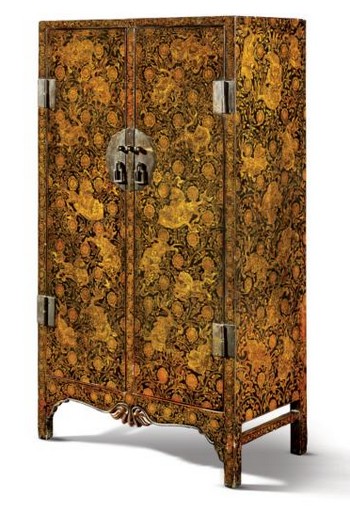 Ce magnifique cabinet est méticuleusement peint en rouge et or sur un fond de laque noire. Son décor est composé des principaux symboles bouddhistes : le lion (symbole de puissance surhumaine), la pivoine (symbole d'affection et de beauté féminine), le lotus (symbole de pureté et de perfection).
Un cabinet très similaire à celui-ci est possédé par la Compagnie de la Chine et de l'Inde à Paris ; un autre comparable est conservé au musée Guimet.
Ce spectaculaire cabinet est estimé entre 950 000 et 1 430 000 euros.


Cette très belle vente, s'accompagne d'une autre vente exceptionnelle proposant huit trésors de porcelaines impériales.
Je vous parlerai certainement dans les semaines à venir des prix auxquels ces objets ont été vendus.

Anne-Flore de Bonneval


A propos d'Anne-Flore de Bonneval

Anne-Flore de Bonneval est expert en art d'extrême-orient. Elle collabore avec le cabinet Authenticité dans ses différentes missions et est chargée de cours à l'I.E.S.A. Campus II de Paris.


Illustration principale :
Détail du cabinet peint et laqué ouvert, meuble d'époque Wan Li.
Copyright : Sotheby's Hong-Kong.
Informations pratiques : "Ming Imperial Furniture : The Biegucang Collection" sur www.sothebys.com.


Feel free to contact our fine art specialists if you want to appraise your works of art. We also assist you in the selling of your works of art : consultancy.





Send this article to a friend