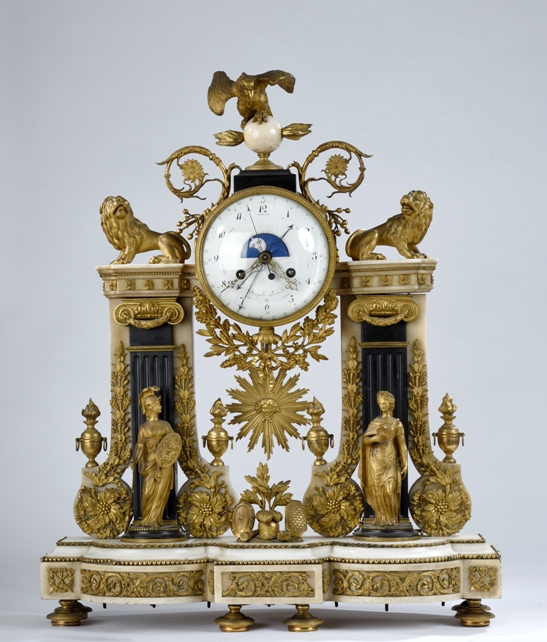 Guillaume Le Floc'h auctioneer in collaboration with our experts specialized in free valuation and free appraisal will sell at auction, in Saint-Cloud on the 2nd October, a monumental Louis XVI clock in marble and ormolu, the movement indicating the phase of the moon and the days.
Exceptionnelle pendule portique allégorique de la Force et la Justice à mouvement à complications
Pendule portique en marbre blanc, marbre noir et bronzes ciselés et dorés, la terrasse en triple ressaut à riche frise de rinceaux reposant sur six pieds toupies, présente les figures d'Athéna et de Thémis encadrant un trophée d'armes. Le cadran circulaire en émail blanc, noir et rouge, à quantième, indiquant les jours de la semaine ainsi que les phases de la lune, signé Denoyelle à Paris, est porté par deux montants, à décor de rosaces feuillagées et fleuris et pots à feu, flanqués de pilastres cannelés coiffés de chapiteaux ioniques à entablement supportant un lion rugissant. Il présente à l'amortissement un riche branchage feuillagé noué et est coiffé d'une sphère portant le foudre surmonté d'un aigle.
Epoque Louis XVI
Cheveux au cadran, légers manques dans le perlé, marbres accidentés.
72 x 59 x 20 cm
Estimation : 12000/18000 euros
Note :
Dans la mythologie grecque, Athéna symbolise la guerre et la sagesse et Thémis la justice, l'équité et la loi.
Ferdinand-Philippe Denoyelle accède à la maitrise en tant que maitre horloger parisien le 13 décembre 1788.
Notre pendule peut être datée assez précisément au regard de :
- la date de maitrise de Denoyelle.
- le cadran de notre pendule utilise le calendrier classique et non le calendrier révolutionnaire, qui est en vigueur à partir de la fin de l'année 1793, pour les noms des jours.
- Les aiguilles des heures et des minutes en fleurs de lys.
Tous ces éléments nous permettent d'envisager une datation entre 1789 et 1793.
Un certain nombre de modèles similaires à notre pendule sont répertoriés :
-Dans les collections publiques :
- Paris, Musée des Arts Décoratifs.
- Mons (Belgique), Musée François Duesberg.
- Cleveland, Museum of Art.
-Dans des collections privées :
- Ancienne collection Maurice Segoura.
- Marché de l'art à Versailles.
- Vente Ablor du 25 mars 2001.
- Vente Beaussant-Lefèvre du 23 octobre 2006, lot 198.
- Vente Eric Pillon Enchères du 17 octobre 2010, lot 289.
- Vente Kohn du 20 mai 2011, lot 51.
- Vente Aguttes du 23 septembre 2014, lot 120.
Les mouvements sont signés Charles Le Roy, Vaillant, Piolaine, Mollien ou encore Dechamps.
Parmi tous les exemplaires similaires référencés, un seul est comparable en qualité à la pendule que nous présentons, celle du Musée de Duesberg dont le cadran est signé Piolaine et qui, tout comme la notre, présente un mouvement à quantième indiquant les jours de la semaine ainsi que les phases de la lune.
Bibliographie :
- Les plus belles pendules françaises - Ed. Tardy.
- L'Encyclopédie de la pendule française par Pierre Kjellberg - Ed. de l'Amateur, p202-203.

Send this article to a friend