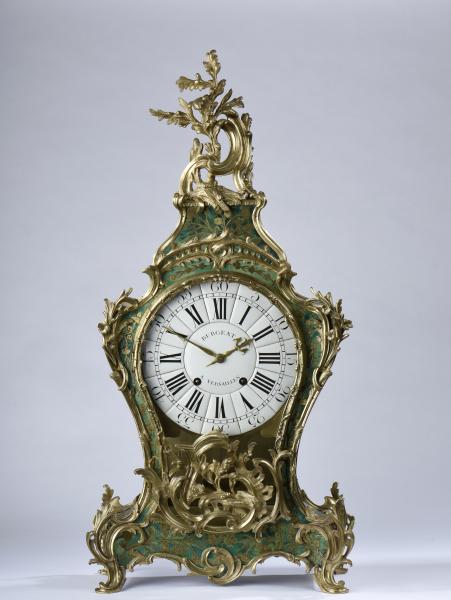 Guillaume Le Floc'h auctioneer in collaboration with our experts specialized in free valuation and free appraisal will sell at auction, in Saint-Cloud on the 2nd October, a large green horn Louis XV clock.
Important cartel de forme mouvementée en placage de corne verte marquetée de laiton à motifs floraux, le cadran émaillé blanc à chiffres romains noirs. Riche garniture de bronze ciselé et doré rocaille tel que chutes, sabots, appliques, tablier, encadrement et couronnement.
Cadran et mouvement signés BURGEAT à Versailles.
Caisse estampillée Antoine FOULLET, Maître en 1775, et poinçon de Jurande.
Époque Louis XV.
Haut. : 94 cm - Larg. : 44 cm - Prof. : 20 cm
La date de maîtrise de Burgeat n'est pas connue. Établi à Versailles, on retrouve sa signature sur le mouvement de plusieurs pendules d'époque Louis XV, en particulier un cartel de Saint-Germain.
Antoine Foullet, reçu maître ébéniste le 24 septembre 1775, se spécialisa dans la fabrication de boîtes de pendules, de cartels et de régulateurs de parquet.
Estimate: 4000/6000 euros

Send this article to a friend