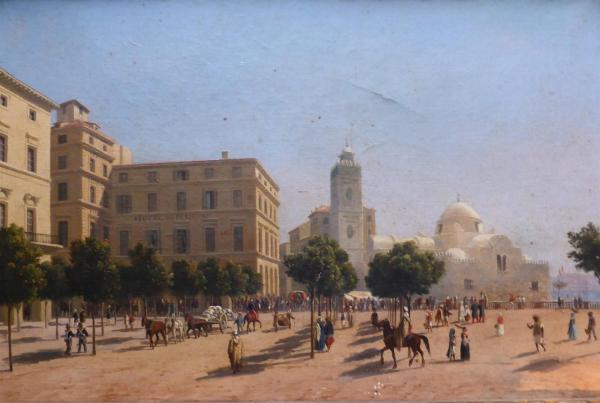 Philocale auctioneer in collaboration with our experts specialized in free valuation and free appraisal will auction an orientalist oil on canvas signed Curtius Grolig, on Saturday 11th November in Orleans.
Curtius GRÖLIG (1805-1863). Hôtel du Périgord, place du Gouvernement à Alger. Huile sur toile. Signé en bas à droite.
30,5 x 44 cm
Taches et fente, cadre en bois stuqué doré.

Originaire de Münich, protégé du roi de Saxe, Grölig est l'un des premiers à avoir peint Alger et ses environs après la Conquête. Reconnu pour son talent de paysagiste, il expose au Salon de Paris nombre de marines et paysages algériens entre 1844 et 1859, ainsi qu'à l'exposition universelle de Paris de 1855. Certains sont aujourd'hui conservés aux musées du Louvre - Débarquement du duc d'Orléans à Alger - et de Versailles ainsi qu'aux musées des Beaux-Arts de Troyes et de Reims.

Bibl. : Marion Vidal-Bué, Alger et ses peintres, Paris, Editions Paris-Méditerranée, 2000

La place du Gouvernement à Alger est la place centrale de l'Alger coloniale. Sur son parvis, surplombant la mer, on distingue la Mosquée de la Pêcherie, l'une des mosquées historiques construite en 1660. L'hôtel du Périgord a été l'un des tout premiers hôtels de la capitale de la Conquête : il est répertorié dès 1842 dans l'annuaire de l'Algérie avec mention de Monsieur Salomon comme directeur.
Estimate: 3,000/5,000 euros

Send this article to a friend