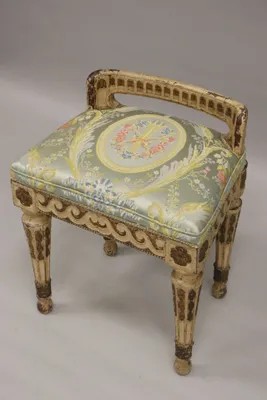 Alpes Encheres auction house, in Chambery, in collaboration with our experts specialized in free valuation and free appraisal sold at auction an Italian 18th century style neoclassical stool, Thursday 2nd December in Chambery.
Tabouret de bureau en bois mouluré, sculpté et relaqué blanc à rechampis dorés, à décor de flots, frise de perles, rosaces, pieds fuselés, cannelés à asperges feuillagées.
Travail dans le style italien de la seconde moitié du XVIIIe siècle. (Usures et accidents).

Note :
Notre tabouret de bureau est une copie de celui conservé au Musée des Arts Décoratifs de Paris Inv. PE 727, don Peyre en 1905.
Estimate: 400/600 euros
Sold for 1,200 euros

Send this article to a friend