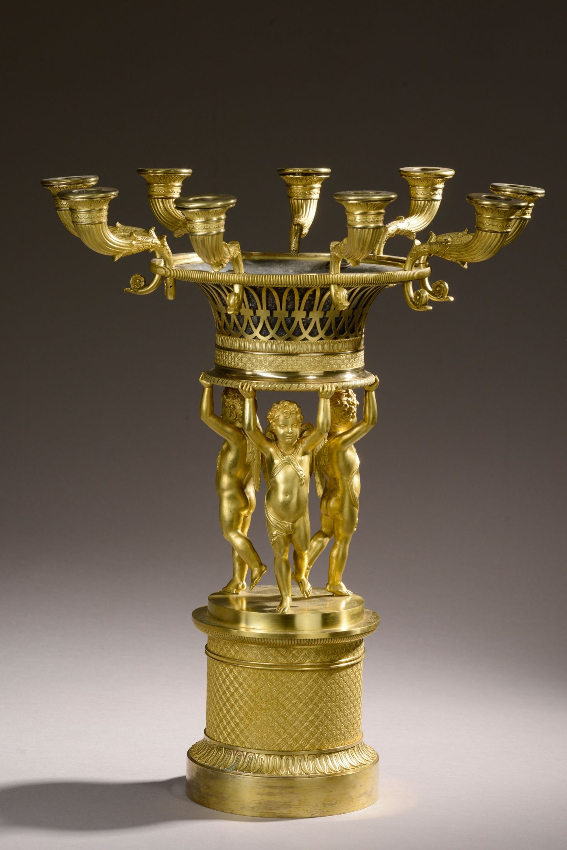 Le Floc'h auction house, in Saint-Cloud, in collaboration with our experts specialized in free valuation and free appraisal will auction a French Empire period ormolu center table by Thomire, Sunday 12th February in Saint-Cloud.
Centre de table en bronze ciselé et doré, la base circulaire à décor de feuilles d'eau et treillage fleuronné portant trois putti supportant une corbeille ajourée à neuf bras de lumière à décor de feuilles de lotus.
Par Pierre-Philippe Thomire, non signé
Epoque Empire.
Avec une doublure
Haut. : 55 - Diam : 45 cm
Provenance : Comte James-Alexandre de Pourtalès (1776-1855) ou son fils le Comte Jacques-Robert de Pourtalès (1821-1874), puis par descendance
Pierre-Philippe Thomire (1751-1843) : Elève de Pajou et Houdon à l'Académie de Saint-Luc, il intègre l'atelier de Gouthière. A partir de 1787, il succède à ce dernier pour fournir les bronzes de la famille royale. Sous l'Empire, la maison Thomire devient le principal fournisseur de la couronne, il reçoit le titre de Ciseleur de l'Empereur. Ses œuvres se distinguent par la qualité de leur ciselure et de leur dorure. Bibliographie : Ottomeyer Proschel, Vergoldete Bronzen, Munich 1986, p. 384 à 389.
Estimate: 12,000/18,000 euros

Send this article to a friend