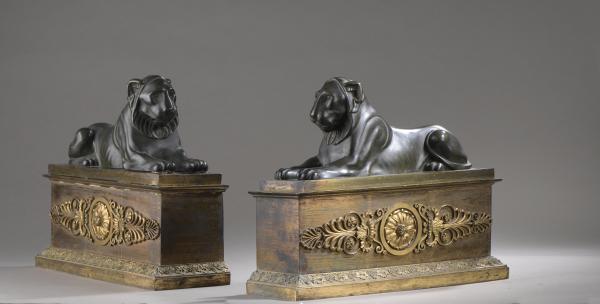 Guillaume Le Floc'h auctioneer in collaboration with our experts specialized in free valuation and free appraisal sold a pair of French First Empire ormolu firedogs with lions with inventory numbers, auction in Saint Cloud on the 14th October.
Paire de chenets en bronze ciselé, doré (usures) et patiné à décor de lionnes couchées reposant sur une base quadrangulaire à large fleuron encadré de palmettes et frises de pampres de vigne.

Ils présentent plusieurs numéros d'inventaires : 21514, 55 biffé, M670.

Attribuée à Antoine André RAVRIO (Paris, 1759 - Paris, 1814).

Époque Empire

Haut. : 33 cm - Larg. : 39,5 cm - Prof. : 15 cm



Notre paire de chenets doit être rapprochée d'une paire similaire, à l'exception du décor de la base, livrée par Ravrio en 1806 pour l'ameublement du château de Fontainebleau et mentionnée dès 1807 dans la chambre de l'Empereur.

Notons cependant que l'on retrouve également ces lionnes couchées chez Claude Galle, en particulier sur une barre de foyer livrée en 1805 pour le Grand Trianon.
Estimate: 1,200/1,800 euros
Sold for 4,000 euros

Send this article to a friend