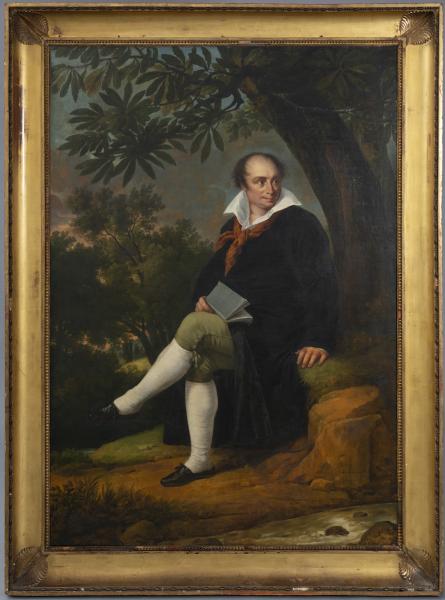 Guillaume Le Floc'h auctioneer in collaboration with our experts specialized in free valuation and free appraisal will auction a portrait of Louis-Benoit Picard, French actor, by Lucile Foullon Vachot dated 1816 in its original glitwood frame, Sunday 07th February in Saint Cloud.
Lucile FOULLON-VACHOT (vers 1775 - 1865).
Portrait de Louis Benoit Picard (1769 - 1828), comédien et dramaturge.
Huile sur toile signée en bas à droite Léon VACHOT F / 1816.
Haut. : 195 cm - Larg. : 136 cm
Cadre d'origine en bois et stuc doré.
Salon de 1817, N° 336.

Pourtant caractéristique du style de Lucile Foullon, élève de Robert Lefevre, on ignore pourquoi celle-ci a signé son tableau du pseudonyme (?) Léon Vachot, mais notre tableau est certainement le « portrait en pied de Monsieur Picard, membre de l'institut « que cette femme artiste expose au Salon de 1817 à coté du portrait du roi Louis XVIII que lui avait commandé la ville de Lille.

Louis-Benoît Picard est l'un de ces immortels de l'Académie Française dont le nom ne nous est paradoxalement plus connu de nos jours. Né en 1769 à Paris, il se tourne très tôt vers les planches du théâtre, s'éloignant de ses études d'avocat. Tour à tour comédien, romancier, dramaturge, membre de l'Académie (1807), directeur de l'Opéra et de l'Odéon, ayant connu l'Ancien Régime, la Révolution Française, la Ière République, l'Empire et la Restauration, Picard est une figure majeure de son temps, connue du milieu littéraire comme du grand public lorsqu'il décède en 1828.

Plusieurs portraits le représentent (musée Marmottan), notamment une statue par Charles Martin qui orne la façade de l'Hôtel de Ville de Paris.
Estimate: 3,000/5,000 euros

Send this article to a friend