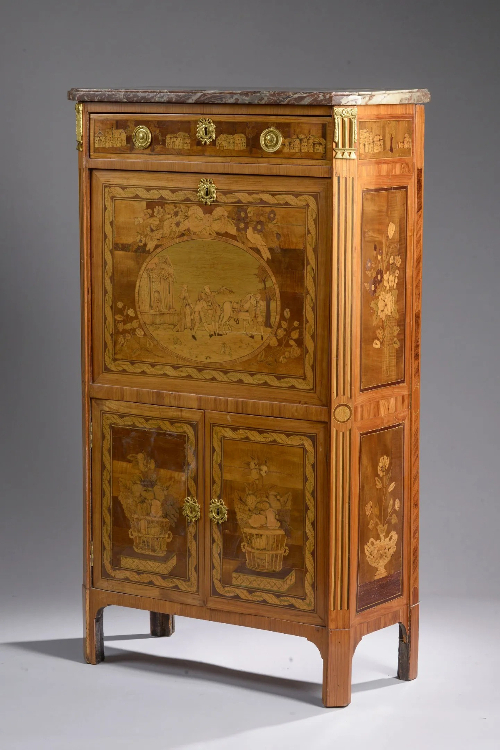 Le Floc'h auction house, in Saint-Cloud, in collaboration with our experts specialized in free valuation and free appraisal sold at auction a Louis XVI marquetry drop front secretaire, Sunday 8th October in Saint-Cloud.
Secrétaire à abattant en armoire à pans coupés richement marqueté sur fond de sycomore dans des encadrements de bois de rose (fentes, manques et restaurations), ouvrant par un tiroir, un abattant découvrant six tiroirs, quatre casiers et deux vantaux dissimulant un coffre. Il présente un décor de vases fleuris, bouquets noués, paysage animé dans un médaillon et frises de ruines dans des encadrements de joncs rubanés, les montants à cannelures simulées. Bronzes ciselés et dorés en partie rapportés. Il est coiffé d'un plateau de marbre rouge des Flandres rapporté.
Attribué à Daniel DELOOSE, reçu maître par édit royal en 1767.
Epoque Louis XVI.
Haut. : 139 cm - Larg. : 59 cm - Prof. : 37 cm
Note : L'encadrement de jonc rubané du paysage animé se retrouve en particulier chez Daniel Deloose, à qui nous attribuons notre secrétaire (voir en particulier Shelley M. Bennett et Carolyn Sargentson, French Art of the Eighteenth Century at The Huntington, Yale, 2008, p. 94 à 96).
Estimate: 1,000/1,500 euros
Hammer price: 5,500 euros

Send this article to a friend