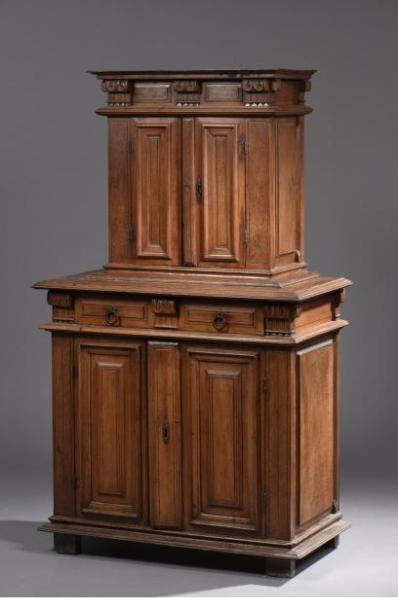 Guillaume Le Floc'h auctioneer in collaboration with our experts specialized in free valuation and free appraisal auctioned a French walnut cabinet from the Jacqueline Boccador collection the 9th June in Drouot.
Cabinet à deux corps en diminutif en noyer blond mouluré, sculpté et gravé, à décor de pennes, rinceaux et entrelacs. Il ouvre à quatre portes en applique, deux en partie basse et deux en partie haute, séparées par deux tiroirs en ceinture. La corniche et l'entablement présentent trois petites consoles à double plumes et denticules (accidents et fentes, restaurations). Serrures, entrées de serrure et poignées de tirage en fer forgé.
Seconde moitié du XVIe siècle.
Haut. : 158 cm - Larg. : 94 cm - Prof. : 48 cm
Bibliographie : BOCCADOR Jacqueline, Le Mobilier Français du Moyen Age à la Renaissance, 1996, Éditions d'art Monelle Hayot, Saint-Rémy-en-l'Eau, pp. 174-175.
Estimate: 6,000/8,000 euros
Sold for 11,500 euros

Send this article to a friend