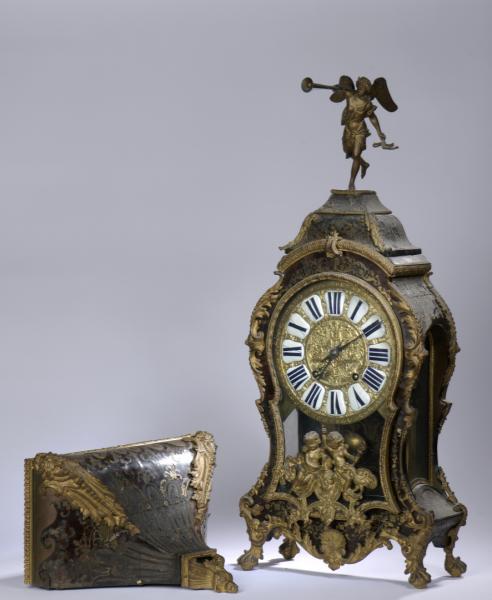 Philocale auction house, in Orleans, in collaboration with our experts specialized in free valuation and free appraisal sold at auction a French Regence period Boulle marquetry and ormolu wall clock and bracket, Sunday 14th February in Orleans.
Cartel d'applique de forme violonée et sa console en placage de corne brune marquetée de laiton à décor de rinceaux, le cadran circulaire à douze plaques d'émail blanc à chiffres romains en bleu. Riche ornementation de bronzes ciselés et dorés tels que renommée, chutes, agrafes, sabots et tablier.
Mouvement signé Jean-Baptiste Duchesne à Paris, reçu maître en 1723.
Époque Louis XV
H. 110 L. 40 P. 21 cm
Accidents, manques et soulèvements.
Avec clé et balancier.
Un cartel de Jean-Baptiste Duchesne en marqueterie d'écaille et étain est mentionné dans l'inventaire après décès du duc de Bouillon en 1730.
Estimate: 800/1,200 euros
Sold for 2,350 euros

Send this article to a friend