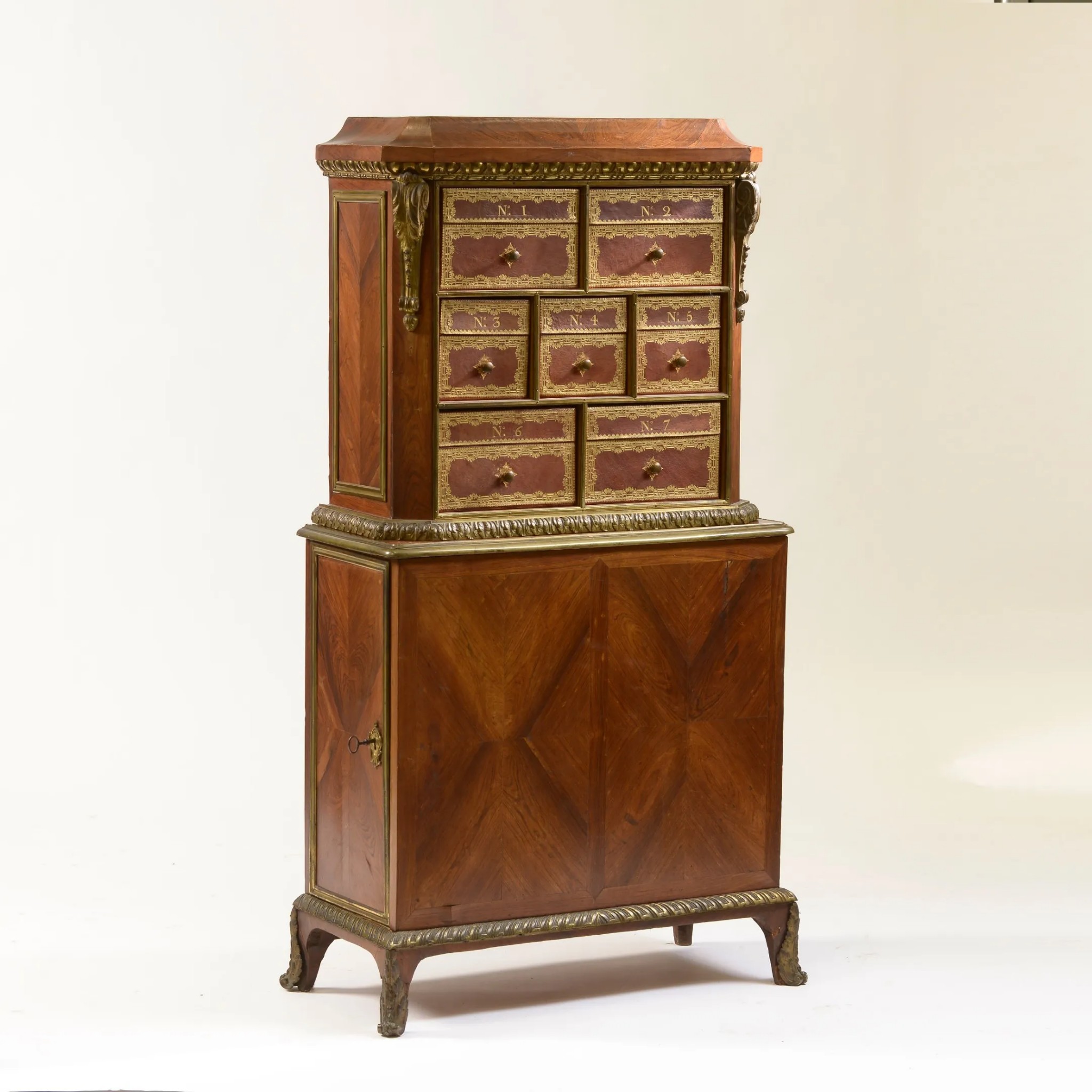 Le Floc'h auction house, in Saint-Cloud, in collaboration with our experts specialized in free valuation and free appraisal will auction a Louis XVI parquetry and ormolu desk cabinet stamped Pierre Garnier, Sunday 8th October in Saint-Cloud.
Cartonnier et soubassement en placage de bois de rose et placage de bois de violette. Le cartonnier à pans coupés présente sept tiroirs de marocain sur trois registres et est coiffé d'une doucine. Riche ornementation de bronze ciselé et doré tels que chutes en console feuillagée et fleuronnée, baguettes d'encadrement latérales, larges quart-de-ronds à oves, perles et olives en partie supérieure et feuillagés en partie inférieure. Le soubassement quadrangulaire ouvrant par deux vantaux latéraux et reposant sur quatre pieds cambrés. Sabots, baguettes d'encadrement et entrées de serrure en bronze ciselé et doré.
Chaque élément estampillé à plusieurs reprises Pierre Garnier, reçu maître le 31 décembre 1742 et une fois Bon Durant, reçu maître le 18 février 1761.
Etiquette collée au dos : Ets CHENU.
Vers 1760-1770.
Haut. : 143 cm - Larg. : 78 cm - Prof. : 36 cm
Provenance :
-Collection Bernard Dillée puis par descendance.
-Vente Maître Ader, hôtel Drouot, le 14 novembre 1934, lot 94.
-Collection René Valadon.
Exposition :
-Musée des Arts Décoratifs, UCAD, Paris, 1955-1956.
Bibliographie :
-Christophe Huchet de Quénetain, Pierre Garnier, Les Editions de l'Amateur, 2003, décrit p. 74 et répertorié sous le No. 28.
-Isabel Pereira Coutinho, 18th century French Furniture. Lisbon : Calouste Gulbenkian Museum, 1999, p. 191 à 197.
-Alexandre Pradère, Les Ebénistes Français de Louis XIV à la Révolution, Chêne, 1992, p. 246 à 251.
-Catalogue de l'Exposition du Musée des Arts Décoratifs, 1955-1956, No. 113.
-Shelley M. Bennett et Carolyn Sargentson, French Art of the Eighteenth Century at The Huntington, Yale, 2008, p. 88-89.
-François de Salverte, Les Ebénistes du XVIIIe siècle, De Nobele, 1975.
Rapport de condition :
Le cartonnier et le soubassement ont été plaqués de bois de violette postérieurement à leur naissance mais avant 1934.
Le placage présente des soulèvements, des accidents et des restaurations.
Deux sabots du soubassement sont à refixer.
Les tiroirs du cartonnier refaits.
Note :
Précurseur du néoclassicisme français, Pierre Garnier (vers 1720-1800) travailla pour les grands commanditaires parisiens de la seconde partie du XVIIIe siècle, en particulier le marquis de Marigny pour lequel il fournit de nombreux meubles néoclassiques pour l'ameublement de ses appartements à l'hôtel de Massiac.
Notre cartonnier s'inscrit dans les productions néoclassiques de Garnier parmi lesquelles on peut distinguer cinq bureaux plats et deux cartonniers auxquels s'ajoute le nôtre :
-un cartonnier actuellement conservé au musée Calouste Gulbenkian de Lisbonne, on y retrouve les pans coupés ainsi que les deux bronzes en quart-de-rond (Isabel Pereira Coutinho, 18th century French Furniture. Lisbon : Calouste Gulbenkian Museum, 1999, p. 191 à 197).
-un cartonnier provenant de l'ancienne collection du duc de Talleyrand, Valençay et Sagan au château de Sagan, vente, Galerie Georges Petit, 29 mai au 1er juin 1899, lot No. : 272.
On retrouve dans ses deux cartonniers les pans coupés et le sommet en doucine.
La création de cette série de cantonniers doit être rattachée à la création d'une série de cinq bureaux plats dont les deux premiers ayant un cartonnier identifié :
-un bureau plat, musée Calouste Gulbenkian, Lisbonne.
-un bureau plat , ancienne collection Talleyrand.
-un bureau plat, The Huntington Collection, Californie.
-un bureau plat, collection du marquis de Bath, Longleat.
-un bureau plat, ancienne collection Stavros S. Niarchos, Paris.
L'association du soubassement et de notre cartonnier peut surprendre, cependant la présence des deux estampilles P. Garnier et B. Durant sur chaque élément, nous permet de confirmer qu'ils sont nés en même temps. La période néoclassique ayant vu le mélange des styles comme naturel.
On retrouve l'estampille de Bon Durant sur de nombreuses créations de Pierre Garnier à partir des années 1760, citons en particulier les meubles livrés pour le maréchal de Contades au château de Montgeoffroy mais plus particulièrement une paire de commodes datée 1768, collections du roi de Suède, château de Gripsholm.
On notera que Pierre Garnier estampilla chaque meubles à plusieurs reprises et de manière fort visible contrairement à B. Durant. Pierre Garnier sous-traitait ses importantes commandes chez Durant de manière fréquente comme l'indique la présence d'un registre s'étalant sur plus de neuf ans et non de simples créances.
Estimate: 7,000/9,000 euros

Send this article to a friend